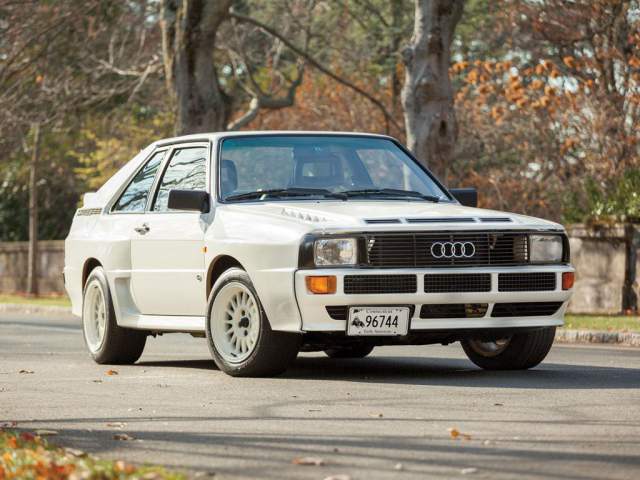 A pristine 1984 Audi Sport Quattro is set to cross the auction block in January courtesy of RM Auctions. Pre-auction estimates claim the legendary sports car could sell for between $350,000 and $475,000.
As one of just 214 examples ever created, the Audi Sport Quattro is an exceptionally rare car and this particular example is even more notable. Why? Well it has a mere 8237 km on the clock and unlike the vast majority of Audi Sport Quattro's, this car is fully original and when sold, will come with the tools, jack, owner's manual and spare racing seatbelts it was originally sold with.
Beneath the skin, the 1984 Audi Sport Quattro is fitted with a potent turbocharged five-cylinder engine with four valves per cylinder. This powerplant pumps out an impressive 450 hp in race trim with the KKK-K27 turbocharger rated at 17psi. When combined with Audi's trademark all-wheel drive system, the original Sport Quattro rally car hits 100 km/h in a mere 4.8 seconds. This road-going example delivers a more modest 302 hp and 258 lb-ft of torque but does include a selected ABS system which can be tailored to different driving and road conditions.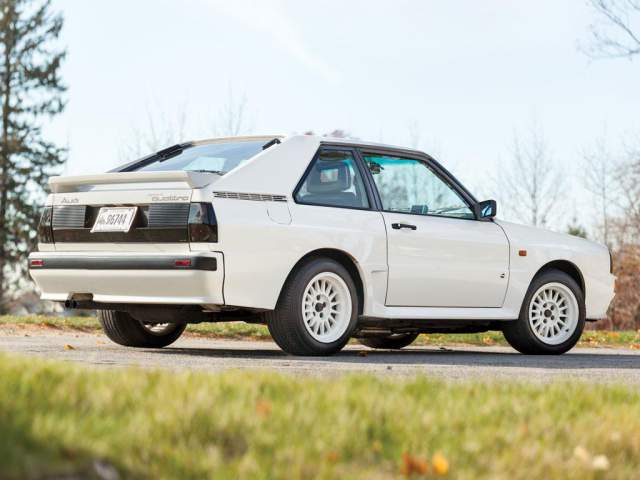 Braking is them performed by AP Racing four-piston brakes at all four corners with ventilated and slotted discs. These brakes were originally developed for the Porsche 917 racing car.
[showhide]302 hp, 2,133 cc DOHC 20-valve alloy-block inline five-cylinder engine with a KKK-K27 turbocharger and Bosch electronic fuel injection, five-speed manual transmission, Quattro all-wheel drive, four-wheel independent coil-spring suspension with front and rear anti-roll bars, and four-wheel ventilated and slotted AP four-piston racing disc brakes with selective ABS. Wheelbase: 86.8 in.
Game-changing, all-wheel-drive rally machine
One of only 214 built for Group B homologation
Loaded with advanced technology and performance engineering
All original; believed two owners and 8,300 kilometers from new
Perhaps the finest example extant
"We've said it before, and we'll say it again; one day these cars are going to rival vintage Bugattis for desirability…They have an unimpeachable motorsport heritage."
– Octane, March 2011
The introduction of Group B into the World Rally Championship in 1982 resulted from an evolution that was dictated by a general industry move from rear to front-wheel-drive cars, and it proved revolutionary, with seven victories. Contenders now had three classes from which to choose, Group N (standard production cars), Group A (modified production cars), and the almost immediately notorious and virtually unbridled Group B (modified sports cars).
Most notably, Group B allowed Audi to compete with its still-new Quattro all-wheel-drive system, which was an obvious boon on varied rally stage surfaces. The permanent all-wheel-drive system debuted in the Audi 80-based Quattro Coupe in 1980, and it quickly came to define the brand. Furthermore, FIA Group B homologation rules meant that only 200 road going examples of each car were necessary for sale to the public. These light regulations made for intensely competitive racing, since automakers were no longer required to build racing cars based on mass production models but vice-versa.
Audi campaigned what was essentially a Group 4 Quattro for the first couple of years, before engineers in Ingostadt, Germany, unleashed a wildly different model, which is now christened Sport Quattro. Although the Ur-Quattro ("original Quattro" to German enthusiasts) was a dominant force due to its permanent all-wheel-drive system, its heavy monocoque chassis, long wheelbase, and balance issues caused by its longitudinally mounted engine proved to be hindrances against such purpose-built racers as the Lancia 037.
Audi's engineers were tasked with developing a new model that would address these concerns, and this was something they did in secret, far from the company's road car operations. With its wheelbase shortened a meaningful 12.6 inches between the B- and C-pillars, the Sport Quattro was not only significantly shorter than the standard Quattro found in showrooms, but it's steel monocoque shell, which was built offsite by Baur, also featured numerous GRP and carbon-Kevlar panels to further trim weight. As such, there was very little shared with serial production Audis (although a more upright windshield that had been cribbed from the workaday Audi 80 alleviated early visibility concerns).
Under the hood, a downsized 2,133-cubic centimeter, five-cylinder alloy-block engine that featured four valves per cylinder was turbocharged to the tune of around 450 brake horsepower in competition tune. A massive KKK-K27 turbocharger rated at 17 psi (1.05 bar) meant that the car's engine displacement actually required reduction in order to comply with FIA regulations. Even so, the Sport Quattro competed against cars in the 3,000-cubic centimeter category. It was capable of sprinting from a complete stop to 60 mph in just 4.8 seconds, making it one of the quickest cars ever built for road use when it debuted. AP four-piston racing brakes that had been ventilated and slotted, as developed for the Porsche 917, ensured that extraordinary stopping power was available when needed.
Even if one ignored those impressive numbers, the introduction of the Sport Quattro was still in many ways a watershed moment for rally racing. With the world's top drivers on its roster, including the likes of Stig Blomqvist, Hannu Mikkola, Michèle Mouton, and Walter Röhrl, Audi Sport dominated the WRC throughout the 1984 season. The Sport Quattro's last win came at the hands of Stig Blomqvist and Björn Cederberg, who raced one in early November 1984, at the Rallye Côte d'Ivoire in Africa, where the team also claimed the manufacturers' title. This outright dominance cemented the car's legendary stature in WRC rallying.
Audi built a mere 214 Sport Quattros, most of which were sold to select customers via specialized dealers. In Germany, the car ultimately retailed for more than 200,000 Deutschmarks, which was a substantial sum that bought owners more than a taste of competition-proven performance. The road going models boasted a more reasonable 302 brake horsepower and 258 foot-pounds of torque, but they were no less aggressive to drive than their racing counterparts. Advancements like a selectable ABS system allowed drivers to specifically tailor the vehicle to a variety of road conditions.
With their nine-inch-wide Ronal alloy wheels, the Sport Quattro had a light but darty demeanor that proved daunting for novice drivers, and as contemporary media reviews indicated, its turbo-lag was profuse but workable, making the car hardly forgiving to drive. The Sport Quattro commands as much respect for its hidden technology as it does for the drivers who piloted it to the checkered flag.
The road going 1984 Audi Sport Quattro offered here is without a doubt one of the finest examples extant, if not the finest. It was acquired by its current American-based caretaker from its first owner, noted Japanese collector Yoshikuni Okamoto of Kobe, and at that time, it had just 8,300 kilometers, which are very much believed to be from new. Notably, Sport Quattros were not officially imported to the United States, making them even scarcer on these shores.
This car is swathed in white paint, which appears to be original, over grey leather and cloth-covered Recaro sports seats, and it wears its factory-correct white alloy wheels. Furthermore, this Sport Quattro will be delivered to its next owner with its original tools, jack, owner's/service manual, installed radio with manual, and its extra set of racing belts, which are still fresh. This Audi has been gently driven over the last 30-plus years and shows few, if any, signs of wear. The car was recently treated to a thorough service by one of Audi's largest dealerships, Audi of Fairfield, Connecticut, which had never before had the opportunity to examine a Sport Quattro. Finally, this example carries a U.S. title and is currently legally registered for road use.
As interest continues to build in the saga that was Group B racing, the Sport Quattro has emerged as a genuine icon. So influential was the short, squat, purpose-built racer that Audi saw fit to pay homage to it by unveiling a modern take on the Sport Quattro as a concept car at the 2013 Frankfurt Motor Show, and this concept has been rumored to be slated for series production.
It is, therefore, our great pleasure to offer this superb Audi Sport Quattro at public auction for the first time ever.[/showhide]