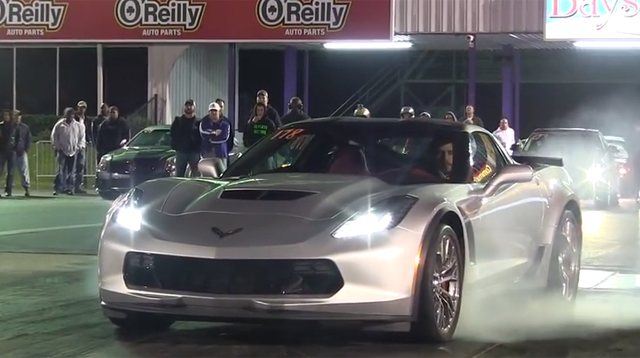 When the covers were lifted on the 2015 Chevrolet Corvette Z06, the American manufacturer revealed it could sprint down the quarter mile in 11.2 seconds with the seven-speed manual and 10.95 seconds with the eight-speed auto. Now the first independent video of the Corvette Z06 hitting the drag strip has been released with this particular manual example recording an 11.7 seconds sprint at 193.9 km/h (120.5 mph).
[youtube]https://www.youtube.com/watch?v=2vG8jNRdqwA[/youtube]
While that time is a bit off what Chevrolet claims the car is capable of, the new Corvette Z06 did get quite a lot of wheelspin off the line. Beyond the thrill of actually seeing the Z06 sprinting down the track for the first time, the clip provides us with an excellent listen to the screaming V8!