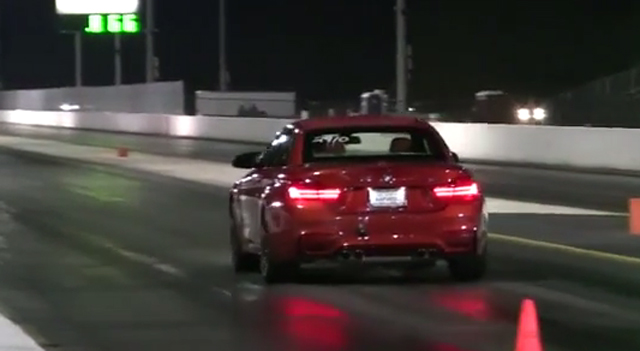 The 2014 BMW M4 Coupe complete with its 3.0-litre twin-turbocharged six-cylinder engine is impressively quick down the quarter mile and can consequently record a quarter mile sprint time in the 11 second mark. Just how fast is the much heavier BMW M4 Convertible however?
[youtube]https://www.youtube.com/watch?v=r0HXGS7SBoU[/youtube]
Well the following video shows that with the potent German sports car hustling down the dragstrip in a respectable 12.2 seconds at 188 km/h (117.3 mph). That time is quite impressive when you consider that the M4 Convertible weighs over 250 kg more than the coupe.
Under the hood, the 2015 BMW M4 Convertible is powered by the same 3.0-liter inline six-cylinder twin-turbocharged engine delivering a brutal 425 hp and 406 lb-ft of torque.