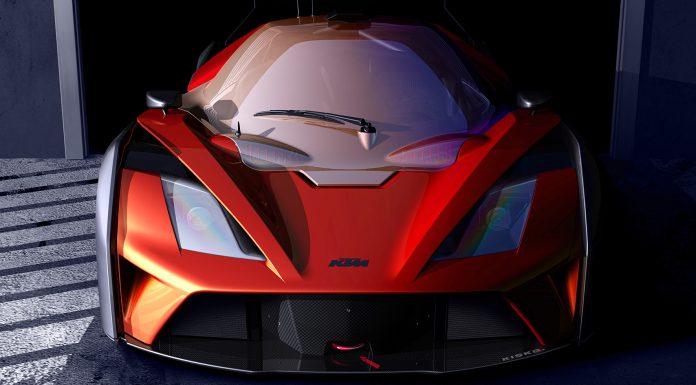 Further details about the upcoming KTM X-Bow GT4 racing car built in collaboration with Reiter Engineering have emerged with the potent racer set to be homologated for SRO GT4 and Pirelli World Challenge GT-S classes.
As the latest teaser image shows, the KTM X-Bow GT4 will be vastly different from the road-going X-Bow. As a matter of fact, it is completely unrecognisable. The front end for example is much more traditional with less outlandish angular lines featuring. Elsewhere, the X-Bow GT4 features a glass cockpit with swooping lines continuing through to the large rear wing.
Beneath the skin, the KTM X-Bow GT4 will deliver about 320 hp from its 2.0-litre TFSI engine. This engine will be mated to a sequential six-speed transmission sourced from Holinger and complete with paddle shifters.
According to Reiter Engineering itself, "When you reflect on what the customer is being offered here in terms of the most modern racing technology, together with a very impressive safety concept, then you can really speak about it being exceptionally good value for money. Since the new car is based on the KTM X-Bow, the customer is going to get a racing car that has now been tested on the world's racing circuits for six years. Our next major milestone will be the SRO BOP test in the coming spring".