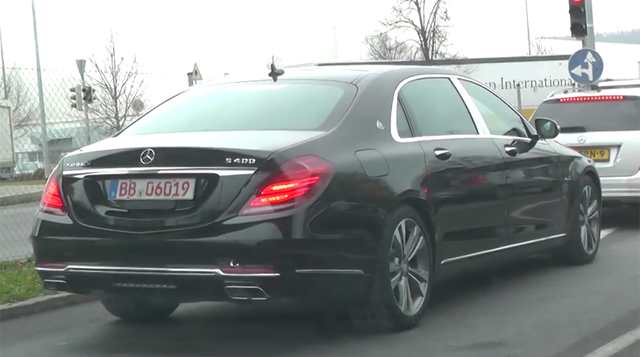 Just before the doors opened to the Los Angeles Auto Show 2014, it emerged that three different variants of the new Mercedes-Maybach would be offered. Initially presented as the S600, the German marque is working on both S500 and S400 versions and now the entry-level S400 has been spied completely undisguised in Stuttgart, Germany.
From a visual standpoint, the Mercedes-Maybach S400 will be identical to the S500 and S600 with the only difference being the inclusion of an S400 badge. Instead of visual points of difference, the Mercedes-Maybach S400 will feature a new engine with less power and torque than the S600's 6.0-litre twin-turbocharged V12 delivering 523 hp and 612 lb-ft of torque.
[youtube]https://www.youtube.com/watch?v=7-2Sq-EEx50[/youtube]
As a matter of fact, the S400 will be powered by a 3.0-litre V6 tuned to extract 333 hp and 354 lb-ft of torque. The Maybach S400 will also be available solely with the firm's 4Matic all-wheel drive system and has been created specifically with Chinese buyers in mind. As for the S500 also on the cards, it will make use of a twin-turbocharged 4.7-litre V8 engine delivering 455 hp and 516 lb-ft.
The Maybach name of course has an interesting history. Founded in 1909 by Wilhelm Maybach and his son, the brand produced production vehicles between 1921 and 1941 before the war forced the company to move into the engine business, powering German tanks. The company became dormant after the war until it was purchased in 1960 by Daimler-Benz. It has since been applied to various special edition Mercedes-Benz models.