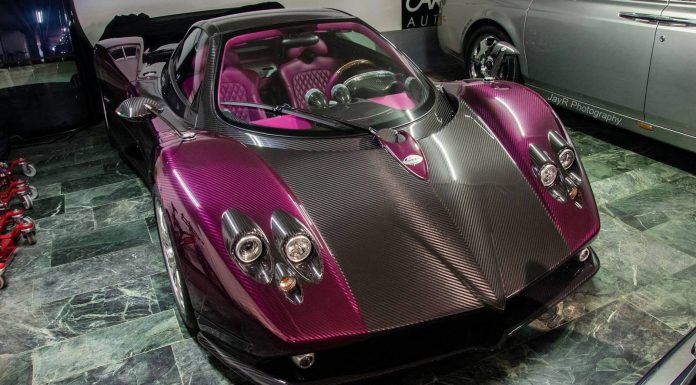 Just 25 examples of the Pagani Zonda F Roadster Clubsport were created and each and every one is unique and this particular example is especially eye-catching.
Unlike most examples of the Zonda F Roadster Clubsport which feature exposed carbon fibre body panels, this Clubsport combines traditional carbon fibre across the hood, A-pillars, roof and wing mirrors while the rest of the body features purple tinted carbon fibre. Alongside the exterior finish, this Clubsport features purple and pink throughout the interior. It was snapped at Carugati Automobiles.
As a reminder, Pagani claims that the Pagani Zonda F Roadster Clubsport tips the scales at just 35 kg more than the coupe with a total figure of just 1230 kg. When combined with 650 hp, the car can rocket to 100 km/h in just 3.6 seconds and onto a 346 km/h top speed.