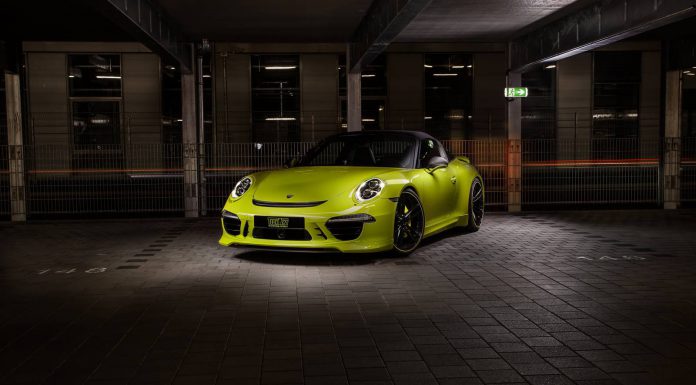 At the Essen Motor Show 2014, TechArt debuted its modified 991-generation Porsche 911 Targa for the very first time and now details and official photos about the car have been released.
The TechArt aerodynamic kit is available for the Porsche 911 Targa 4 models with all parts made from a mixture of lightweight carbon fibre and polyurethane RIM. At the front, the TechArt Porsche 911 Targa is characterised by an all new lower splitter and bumper to not only provide a special visual flair to the German sports car but to also increase downforce at the front end.
Elsewhere, the TechArt Porsche 911 Targa features new air intakes at the front while the sides are highlighted with new skirts and blacked out wing mirrors. Additionally, TechArt has made available its Formula IV alloy wheels available in 20 and 21-inch sizes with the customer having free choice about what colour the wheels are finished in. Alongside adding a unique visual flair, the wheels are lighter than the stock units.
In the cabin, TechArt offers new scuff plates, a 3-spoke multifunction sports steering wheel with paddle shifters as well as aluminium pedals.
The German tuner also offers its sport spring kit to lower the ride height while also offering the TechArt noselift system which increases the front ride by 45 mm. While driving at speeds under 60 km/h, the lifting and lowering is controlled by a button while at speeds over 60 km/h, the car will automatically lower to its standard ride height.
Finally, the TechArt Porsche 911 Targa can be ordered with a custom exhaust system which is valve controlled.