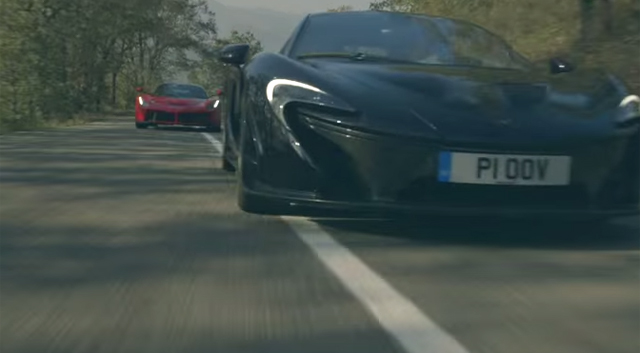 While many automotive pundits predicted the death of the supercar a few years ago, we are in fact living in one of the most exciting periods in the supercar industry in recent decades. This is predominantly due to the launch of the three hybrid hypercars; the Ferrari LaFerrari, McLaren P1 and Porsche 918 Spyder.
[youtube]https://www.youtube.com/watch?v=Lt-QFY2muUM#t=250[/youtube]
Car Magazine recently got their hands on a McLaren P1 and LaFerrari and as you'd expect, headed straight to the hills of Italy to determine which one is best. In the end, the LaFerrari comes out on top with the P1 reportedly easier to fault largely because of its convoluted driving modes, excessive understeer and the fact that you can catch the turbochargers off boost.
On paper, here is how they compare; the 2014 LaFerrari receives a 6.3 litre V12 which is connected to an electric motor similar to the system on the McLaren P1. All up, the LaFerrari delivers 963 hp. By comparison, the McLaren P1 has a twin-turbocharged 3.8-litre V8 delivering 737 hp and when joined with an electric motor, pumps out 903 hp.