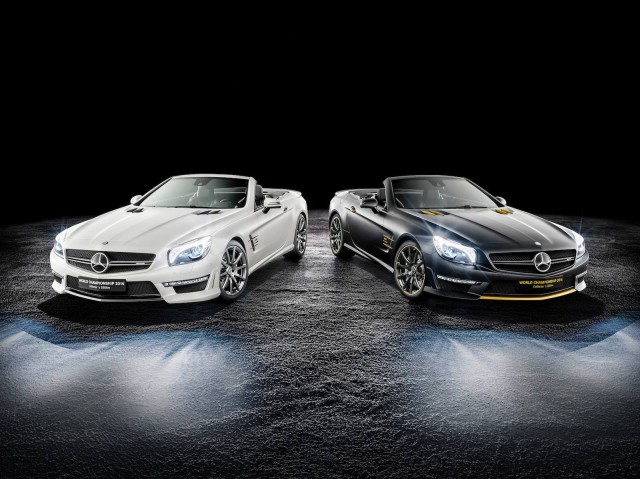 Mercedes-Benz has every reason to celebrate following this past Formula 1 season, which saw their drivers Lewis Hamilton and Nico Rosberg dominate the majority of the grid in nearly every race. The Stuttgart-based automaker has decided to mark its achievements with a limited-edition SL63 AMG World Championship 2014 Collector's edition, which will be limited to just 19 units.
Both Hamilton and Rosberg gave assisted in the development of the special SL63. The car was unveiled last night during a special event in Stuttgart and is offered in black with gold accents or white with silver accents. The black car, presumably designed by Hamilton, features the Silverstone Grand Prix track on the floor mats, key fob,and dashboard, while Nico's silver car features the Hockenheim layout. Both drivers won at these tracks this year, and are also each driver's home venue.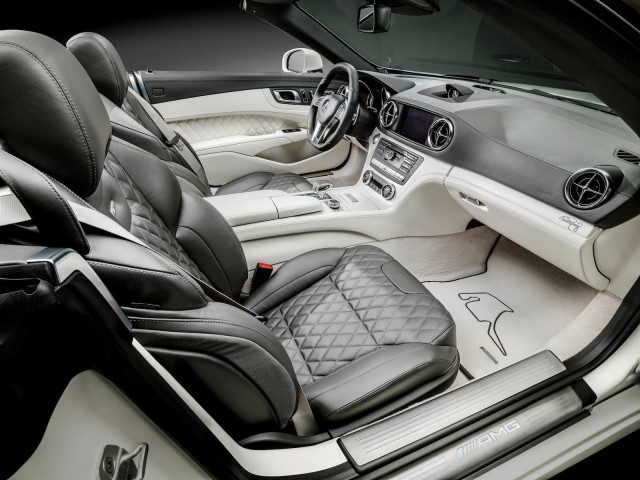 The SL63 World Championship Collector's Edition uses the same engine as the regular SL63, a twin-turbocharged 5.5-litre V8 which produces 529 horsepower and 590 lb-ft of torque. It will accelerate from 0-60 mph in 4.1 seconds and reach a top speed of 186 mph.
Both cars made their debut at the Mercedes Stars and Cars event in Stuttgart, which attracted 50,000 fans to the city's core for celebrations marking Lewis Hamilton's championship season.