It has been almost exactly one year since the Lamborghini Huracan made its only debut. Since then, it has gone on to impress the automotive press with customer deliveries of the latest Italian supercar kicking off around the world a few months ago. Now a bright Rosso Mars example has been fitted with a set of special PUR wheels and it is especially impressive.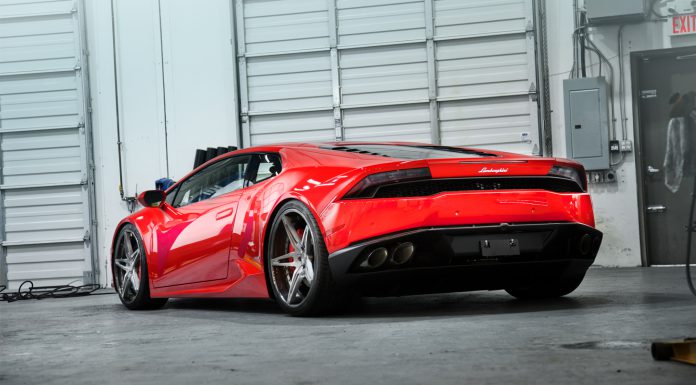 These wheels are the PUR LX17 and they measure 20×9 at the front and 21×12 at the rear and feature a Gloss Lumiere Grey face as well as a gloss black diamond lip. The five spoke design is unlike any other we've seen on the Huracan and it certainly works quite well.
Under the hood, the Lamborghini Huracán receives a new 5.2-liter V10 engine uprated and heavily updated from the engine of Gallardo's. It produces a total of 610 PS, or 602 hp at 8,250 rpm and 560 Nm of torque at a high 6,500 rpm. Consequently, the brand new Huracán can sprint from a standstill to 100 km/h in just 3.2 seconds, from 0-200 km/h in just 9.9 seconds and a top speed in excess of 325 km/h.