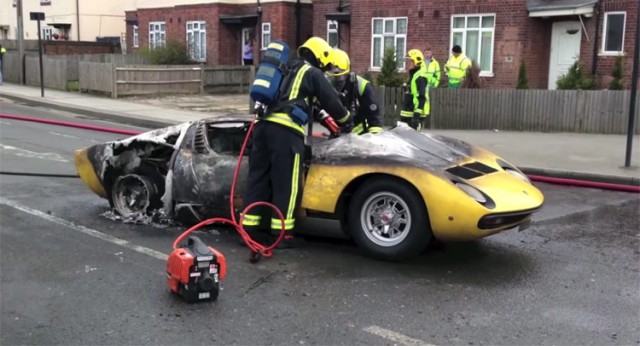 Last year a yellow Lamborghini Miura SV reportedly valued at around $1.4 million, burst into flames in West London just one mile after leaving local auto shop H.R. Owen. Now it has been revealed that property tycoon Jon Hunt is suing H.R. Owen Dealerships for the loss of the Italian exotic.
At the time of the fire, Hunt's son was behind the wheel after having just collected the car from the auto shop where it was serviced. Just a few minutes later however, the yellow Miura SV caught alight and was destroyed by the inferno.
As a result, Hunt is asking for the equivalent of $1.1 million in compensation including damages. Hunt has agreed to offset $300,000 from the compensation as the burnt shell of the Miura SV is valued at around that much.