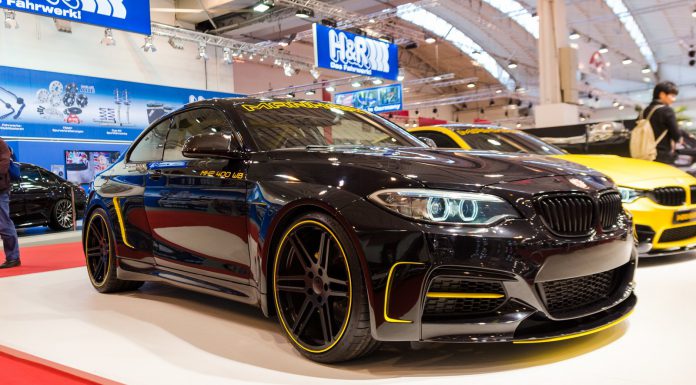 The Manhart MH2 400 is currently celebrating its world debut at the Essen Motor Show 2014. Based around the BMW M235i, the Manhart MH2 400 features many of the same performance components as the track-oriented MH2 Clubsport unveiled earlier this year albeit in a more road friendly version.
From a visual standpoint, the Manhart MH2 400 show car features a widened body kit with aggressively flared arches. Additionally, the front bumper has been modified in such a way to make it look even more menacing than the standard M235i's front fascia. Elsewhere, the traditional BMW kidney front grille has been blacked out.
Other obvious visual changes include the addition of a small bootlid lip spoiler, tinted taillights, a set of six twin-spoke matte black wheels with a yellow outer rim as well as a set of bright yellow brake calipers.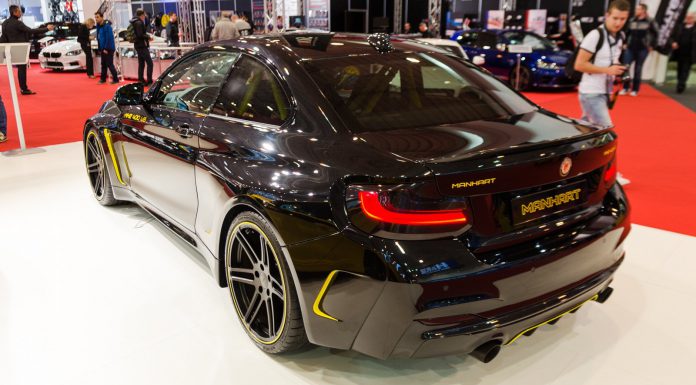 To upgrade the engine and lift power substantially, Manhart Performance has fitted a bigger intercooler, a new sports exhaust system with custom downpipe and 200-cell sports catalysers. When it is all said and done, the Manhart MH2 400 delivers an impressive 430 hp and 592 Nm of torque. These figures are the same as the MH2 Clubsport.