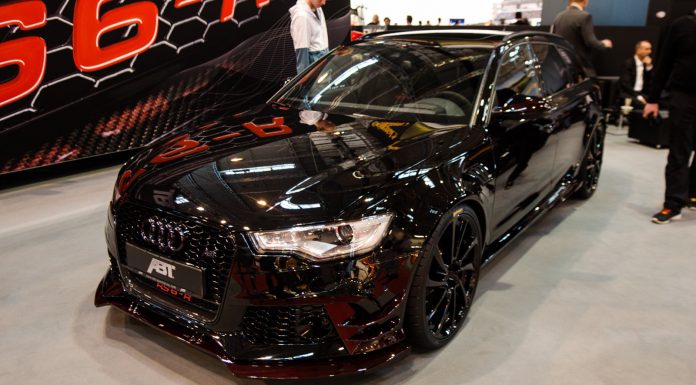 ABT Sportsline hasn't disappointed at the Essen Motor Show 2014 by displaying its new ABT Audi RS6-R, 400hp ABT Volkswagen Golf R and the brand new ABT 2015 Audi TT.
As for the ABT Audi RS6-R, it gets a power boost applied to the 4.0 litre V8 engine. The ABT RS6-R produces 730 hp, up from the standard 560 hp. Torque rises from 700 Nm up to 920 Nm. The ABT Audi RS6-R has a topspeed of 320 km/h. The extra performance comes courtesy of an ABT Engine Control unit, specially developed software and a specially adapted stainless steel exhaust system – including a Y-pipe and sport-type catalytic converter.
Selected parts of the bodywork have been constructed from an exposed red carbon fibre. They include the front lip with its side blades, the air inlet covers including flics, the side skirt attachments with side blades and the rear skirt. The mirror caps, fender inserts and a rear spoiler complete the imposing look.
As for the Volkswagen Golf R, ABT has managed to extract a potent 400 hp thanks to tweaked ECU software as well as a new sports catalytic converter.
From a visual standpoint, the latest VW Golf R by ABT Sportsline also features some subtle yet eye-catching modifications. For example, it features a blacked out front grille and headlight covers, aggressive new side skirts as well as new quad tailpipes and custom matte black wheels to add an extra sense of aggression to the hot hatch. The taillights have also been tinted.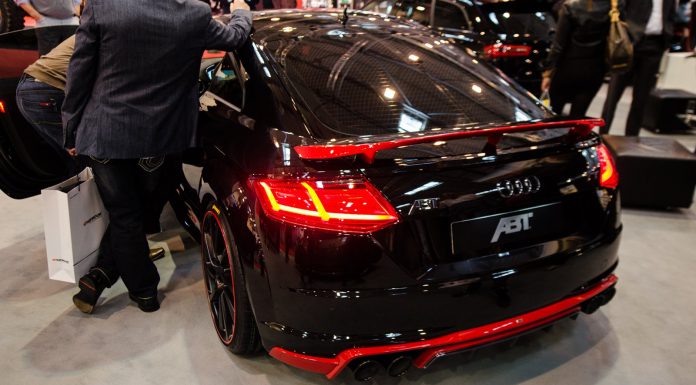 Finally, the 2015 Audi TT from ABT Sportsline is based around the mid-range Audi TT fitted with the 2.0-litre TFSI engine and has received a selection of performance and visual modifications.
Beneath the skin, the mid-range Audi TT typically produces 220 hp and 258 lb-ft of torque. Thanks to some tuning however, ABT Sportsline has managed to increase that up to 310 hp and 324 lb-ft of torque.