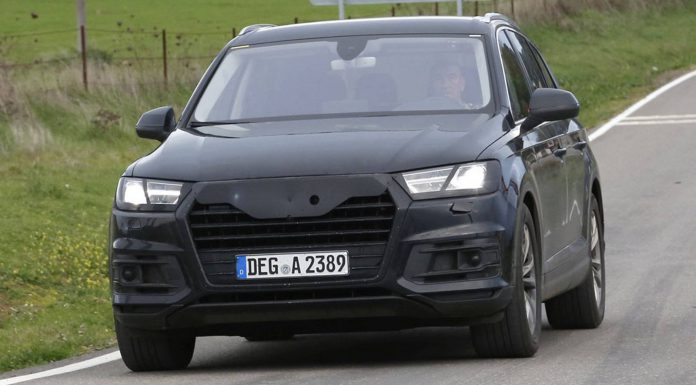 Audi's next-generation Q7 SUV has been photographed almost completely undisguised ahead of its debut at the Detroit Motor Show 2015 this upcoming January. These photos give us our best look yet at the new seven-seat SUV, which will employ new Audi design cues similar to those seen on the 2015 TT.
The only camouflaged parts of this prototype are the upper section of the grille, where Audi's four rings would normally be, and small parts of the headlights and tail lamps. The sharper single frame grille design, redesigned headlights and tail lamps and sleeker bodylines can be seen almost in their entirety, leaving only a few aspects of the all-new SUV to the imagination.
The new Q7 will ride on Volkswagen's all-new MLB architechture, which is also set to underpin other VW Group SUVs such as the Porsche Cayenne and production versions of the Lamborghini Urus and Bentley Falcon. In moving to the new platform, VW managed to reportedly shave nearly 300 kg (660 lbs) from the Q7, which will result in both improved driving dynamics and fuel economy.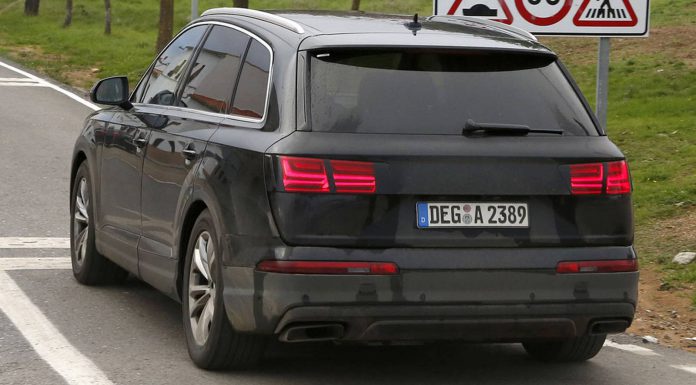 As far as engine options go, certain petrol choices from the A7 and A8 are expected to be used, along with several 3.0-litre V6 TDI diesels with varying power outputs. A high performance RS version with Audi's twin-turbocharged 4.0-liter V8 is expected to be introduced at a later date, along with an earth-friendly plug-in hybrid version.