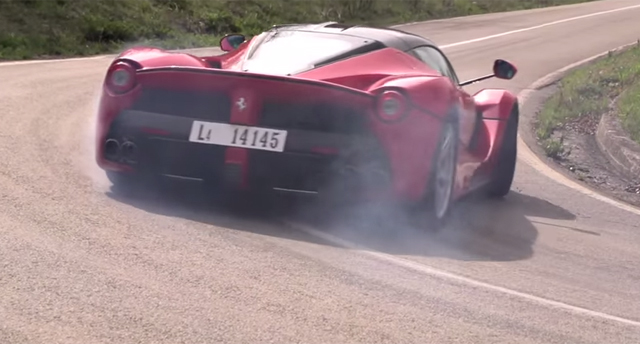 A few months ago, we got to see a short video of Chris Harris testing out the brand new 2014 Ferrari LaFerrari. It is only now however that we've been able to view the full video free of charge and as you'd expect from Harris, the review is exceptionally exciting!
[youtube]https://www.youtube.com/watch?v=GaAQW8lVaRM#t=261[/youtube]
Throughout the test, Harris drives the latest and greatest hybrid hypercar through the streets of Italy and as you'd expect, on Ferrari's Fiorano test track as well!
As a reminder, the 2014 LaFerrari receives a 6.3 litre V12 which is connected to an electric motor similar to the system on the McLaren P1. LaFerrari's V12 has an output of 800 hp at 9,000 rpm and 700 Nm at 7,000 rpm while its electric motor has a maximum output of 163hp and 270 Nm of torque. That delivers a total combined power output of 963 hp, allowing the new Ferrari Enzo to do 0-100 km/h in less than 3 seconds, 0-300 km/h in 15 seconds and a top speed in excess of 350 km/h.