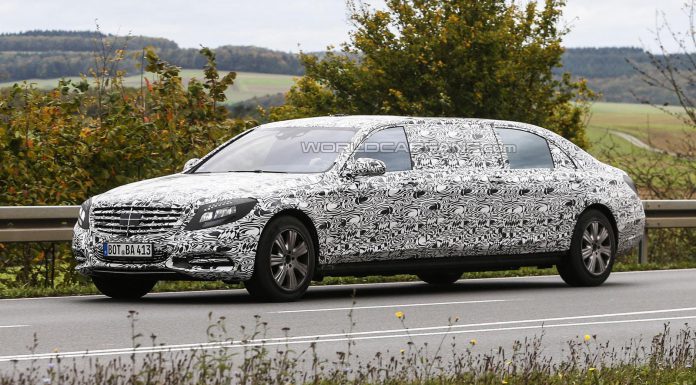 Unveiled at the Los Angeles Auto Show 2014 early last week, the Mercedes-Maybach S600 is the German firm's range-topping luxury vehicle. However, it won't hold that title for long with it emerging that the much talked about Mercedes-Maybach Pullman will arrive at the Geneva Motor Show 2015 in early March.
Set to be officially dubbed the Mercedes-Maybach S600 Pullman, the car will feature a 2+2+2 seating layout. All up, it is believed that the Pullman will be 6.4 metres long and the passenger compartment will have four seats facing each other and be separated from the driver's section with a partition similar to a traditional limousine.
As the name of the Pullman suggests, it will feature the same 6.0-liter twin-turbocharged V12 engine delivering a total of 523 hp between 4900 rpm and 5300 rpm and 612 lb-ft of torque between 1900 and 4000 rpm as the standard length S 600. Due to the increased weight and size of the Pullman, it won't be as fast nor as efficient as the standard S-Class however.
When the Pullman hits the market, it will reportedly cost over $1 million and comfortably be the company's most expensive model.
[Via Motor Trend, Picture via World Car Fans]