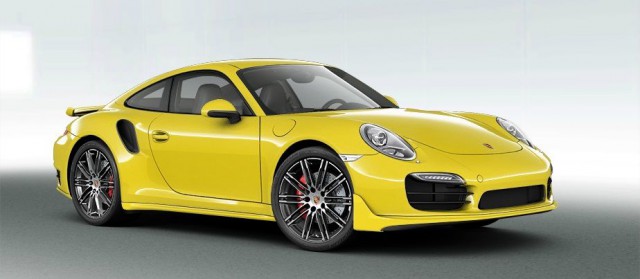 If you're familiar with the Porsche 911 range, you'll now that the German marque has offered its special 'Aerokit' for the staple German sports car for many, many years now. However, Porsche has just released the aerokit for the latest-generation 991 Porsche 911 Turbo and Turbo S models.
Porsche 911 Turbo and Turbo S owners/buyers can firstly choose to have their aerokits either painted to match the exterior finish of the car or instead have then painted gloss black. At the front, the aerokit sees the addition of two large side fins to boost downforce at the front axle while providing a heap of added aggression.
Elsewhere, the new Porsche 911 Turbo and Turbo S aerokit includes slightly extended side skirts. The rear is then characterised by a custom rear wing which is wider than the regular Turbo's and makes use of curved ends.
The kit is priced at 5355 Euros.
[Via TSK]