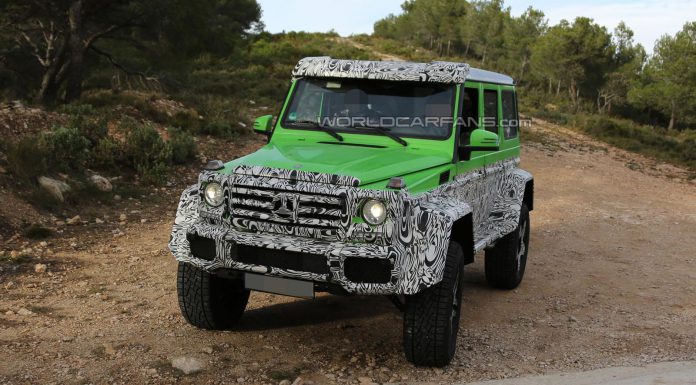 A rather mysterious Mercedes-Benz G63 AMG prototype has been spied testing and it previews yet another crazy off-roader from the German marque. Colloquially dubbed the 'Green Monster', this particular test mule could be considered as the middle ground between a 'regular' G63 AMG and the six-wheeled G63 AMG 6×6.
In a similar vein to the 6×6, this G63 AMG features massively and boxy flared arches supporting bigger wheels and tyres. Additionally, the car features significantly more ground clearance than the current Mercedes-Benz G63 AMG.
Elsewhere, this 'Green Monster' prototype features a new front bumper and a revised grille and looks like a machine which could handle any obstacle mother nature throws at it!
Beneath the skin, the existing 5.5-litre twin-turbocharged V8 of the G63 AMG and G63 6×6 is likely to have been maintained. As a result, it should be delivering the same 544 hp and 560 lb-ft of torque and mated to a seven-speed automatic transmission.
Understandably, nothing has been made official of the car but it could launch next year.
[Via World Car Fans]