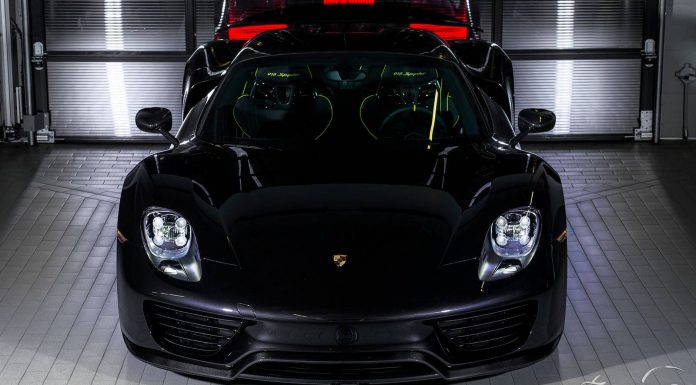 From the various Porsche 918 Spyders which we've seen delivered so far, silver is definitely proving to be the most popular colour choice among 918 customers. However, a stunning gloss black example fitted with the optional Weissach package recently reached U.S. shores and Atomic80 Photography had the privilege of snapping some excellent pictures of it.
Beyond the black paint, this Porsche 918 Spyder features green brake calipers and gunmetal grey wheels. The aggressive rear bumper fins and diffuser are finished in carbon fibre as is the large rear wing. Inside, black leather is featured throughout alongside bright green piping and stitching.
The headline for the Weissach Package is improved performance. From zero to 100 km/h takes just 2.6 seconds, 0.2 seconds faster than the standard model. It takes just 7.2 seconds to travel from zero to 200 km/h in 7.2 seconds (a 0.5 second reduction), and 19.9 seconds to pass the 300 km/h mark (a 2.1 second reduction).
This extra speed has been achieved by stripping away lots of unnecessary weight. For example, the car features lightweight magnesium wheels, a weight-optimised brake system with titanium components, a carbon fibre reinforced plastic (CFRP) anti-roll bar at the rear axle as well as a CFRP prop on the luggage compartment lid.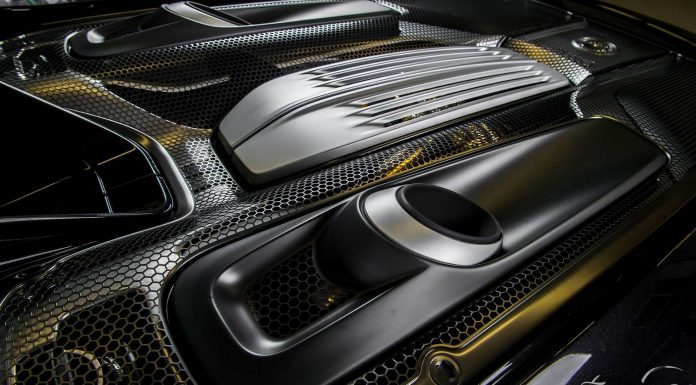 Under the hood, it features the same powertrain as the standard 918 Spyder. That is a mid-mounted 4.6-litre V8 engine producing 608 hp independently – the highest specific power of any naturally aspirated Porsche engine. The V8 is then supplemented by a further two electric motors mounted on each axle. The electric motors can either drive the wheels independently or work together with the engine to boost performance. Each motor produces enough power to boost the total figure to an amazing 887 hp. A seven-speed Porsche Doppelkupplung (PDK) controls power delivery to the rear wheels.
[Via Atomic80 Photography]