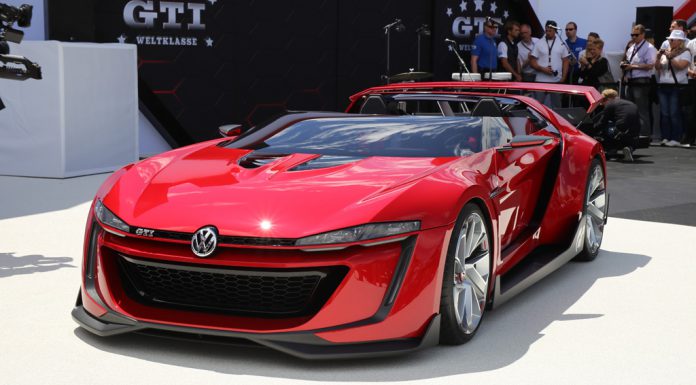 Both the Volkswagen GTI Roadster Vision Gran Turismo Concept as well as the potent VW Golf R 400 Concept are set to make their respective U.S debuts at next week's Los Angeles Auto Show 2014.
The Volkswagen GTI Roadster Vision Gran Turismo Concept was first unveiled back at Worthesee 2014 in late May and was created specifically for Gran Turismo 6. Interestingly, Volkswagen is one of just a handful of manufacturers to actually take their Vision Gran Turismo concepts from the virtual world and into reality.
It is powered by a twin-turbocharged 3.0-litre V6 engine delivering a total of 503 hp and 491 lb-ft of torque. All of this power is sent to the ground via Volkswagen's 4MOTION all-wheel drive system and its seven-speed dual-clutch automatic transmission. Completing the outlandish looks are large 20-inch alloy wheels complete with 235/35 tyres at the front and 275/30 tyres at the rear.
As for the Volkswagen Golf R 400 Concept, it shares the same 2.0 litre four-cylinder engine and 4MOTION four-wheel drive system as the regular Golf R. The Golf R 400 Concept is pumped up considerably with an extra 100 hp and 70 Nm of torque however. Full figures are 400 hp together with 450 Nm of torque available from 2,400 to 6,000 rpm.
The concept was developed by Volkswagen R GmbH, the arm responsible for high-power and customisation projects. The extra power of the Golf R 400 helps propel the car, with its six-speed DSG gearbox, from rest to 100 km/h in just 3.9 seconds. That's a whole second faster than the Volkswagen Golf R. Top speed is an electronically governed 280 km/h.