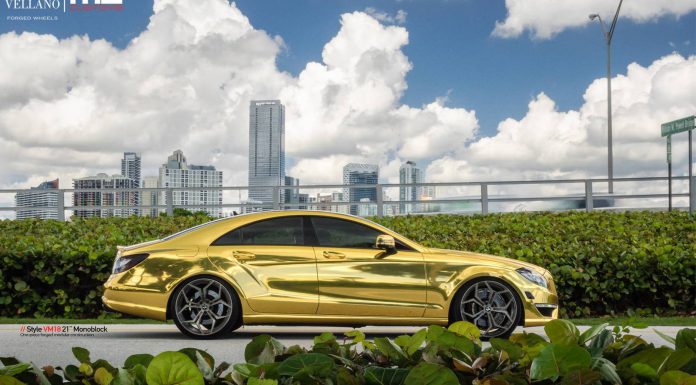 We've all heard it, paint is dead. The new automotive restyling trend, vinyl wrapping, is still going strong. With an array of colour options to choose from, automotive vinyl wrap installers can turn pretty much any ordinary machine into something extremely flashy.
Take this Mercedes CLS 63 AMG by MC Customs for example. After outfitting this beastly 6.2-litre Mercedes with a set of lightweight Vellano VM18 21-inch monoblock wheels, the team refreshed the look of the car with a gold chrome wrap.
Gold chrome wraps are nothing new, but their appeal is still strong. The mirror-chrome finish gives off that gold-plated look, which makes an already expensive Mercedes look like it belongs to a millionaire oil Sheikh from Abu Dhabi.
It's the reactions from passers-by and street-goers that attract the owners of these cars to shiny vinyl wraps like this one. To the average folk, the car looks like it's made of gold. It makes a bold statement and looks great too!
This Mercedes-Benz CLS 63 AMG certainly looks exceptional clad in gold. The Vellano Forged wheels give it that extra pop, completing the look.