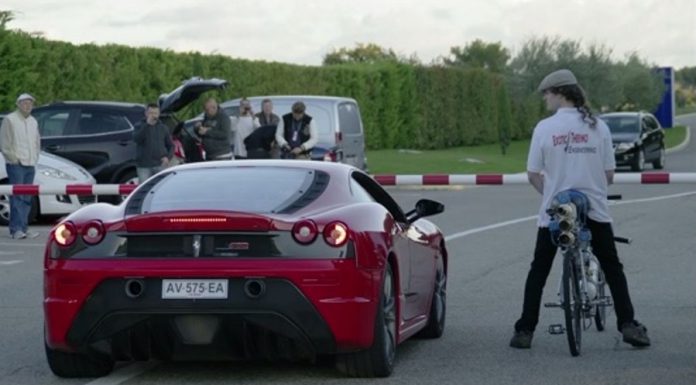 The 320 km/h (200 mph) mark was long considered the benchmark and target for the world's greatest supercars and sports cars. However, French daredevil Francois Gissy has proven that with the right propulsion, even a bicycle can reach this fabled mark!
At Circuit Paul Ricard last week, Gissy strapped himself onto his hydrogen peroxide powered bicycle and hit a top speed of 333 km/h (207 mph!) Making this speed all the more impressive is the fact that it took Gissy a mere 4.8 seconds to reach vmax in about 250 metres.
[youtube]http://www.youtube.com/watch?v=WREyAicJXkM[/youtube]
The bicycle was created by Exotic Thermo Engineering and accelerates significantly faster than anything else on two or four wheels and legal to drive/ride on the street. Top fuel dragsters are the only thing which can match Gissy's speed-machine for acceleration.
Amazingly, Gissy is far from done chasing ridiculous speeds on a bicycle and revealed he is planning a bike to reach over 400 km/h (249 mph).
"If we can find some serious sponsors, then we would like to build a monstrous bicycle, which will be called 'Spine Crusher. The goal would be to accelerate to more than 400 km/h (249 mph) in less than 2 seconds."