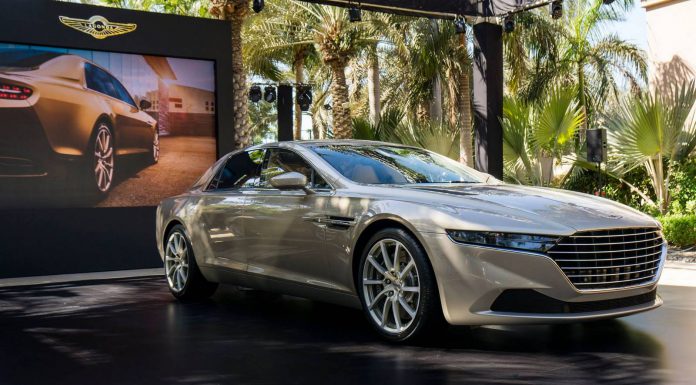 Aston Martin has just unveiled the finished 2015 Aston Martin Lagonda Taraf luxury sedan in Dubai in what is its first time on public display.
Unsurprisingly, the British manufacturer is still remaining extremely tight-lipped about the car just like it has in recent months. This particular example is the first car we've seen not painted black and it is instead a light shade of champagne. Additionally, we know now that the car will be dubbed the Aston Martin Lagonda Taraf when it rolls off the production line in extremely limited numbers.
Aston Martin has decided to restrict production to the Middle East because of a specific market demand for cars like this there. It remains unclear just what will power the Aston Martin Lagonda, but it is suggested that the 5.9-litre V12 from the Rapide S will be utilised. When found in the Rapide, this engine delivers 550 hp as well as 457 lb-ft of torque helping it to hit 100 km/h in under 5 seconds. In the Lagonda, this power will be sent to the rear wheels through a six-speed ZF automatic gearbox.
From a visual standpoint, the new Aston Martin Lagonda sedan has a design reminiscent of the original. As a result, it features quite a boxy shape with sharp lines as well as very thin headlights and taillights and a low roofline.
It remains unclear how much the car will cost but it will be manufactured in the same Gaydon facility responsible for the Aston Martin One-77. Helping to ensure that it is lightweight, the new Aston Martin Lagonda will use carbon fibre for its exterior panels.