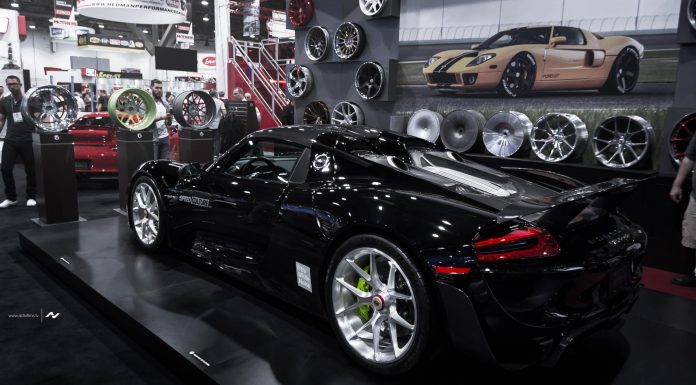 At SEMA 2014, a rare and truly unique Porsche 918 Spyder was displayed by HRE Wheels. Not only was the gloss black finish of the 918 Spyder special, but it was also fitted with the optional Weissach package and green brake calipers.
Completing the looks were a set of HRE P101 wheels finished in silver and looking perfectly at home on the German hybrid hypercar. This is the first time we've seen the 918 Spyder rolling on a set of aftermarket wheels and it looks truly sensational so much so that it had to be our latest Photo Of The Day!
In case you've forgotten, the Porsche 918 Spyder uses a 4.6-litre V8 engine delivering 608 hp as well as two electric motors. All up, it produces 887 hp and can record a sub-10 second quarter mile straight from the factory!