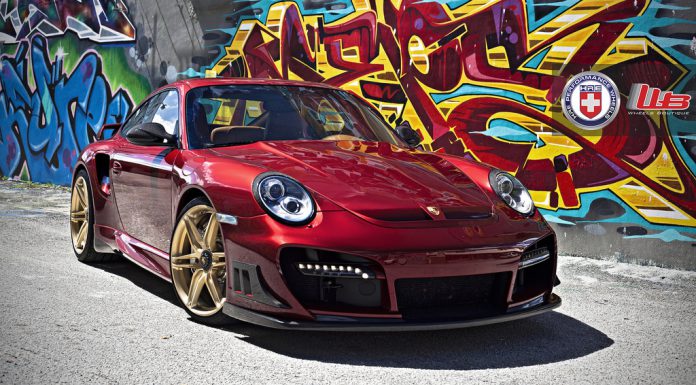 Production of the Porsche 918 Spyder is well underway but because of the long development process of the German hybrid hypercar, many owners have waited over three years to receive their cars. As a consolation, Porsche introduced the 997-generation 911 Turbo S 918 Spyder Edition back in mid-2011 for 918 buyers awaiting deliveries. Now we've certainly stumbled upon the most insane Turbo S 918 Spyder Edition there is courtesy of Wheels Boutique.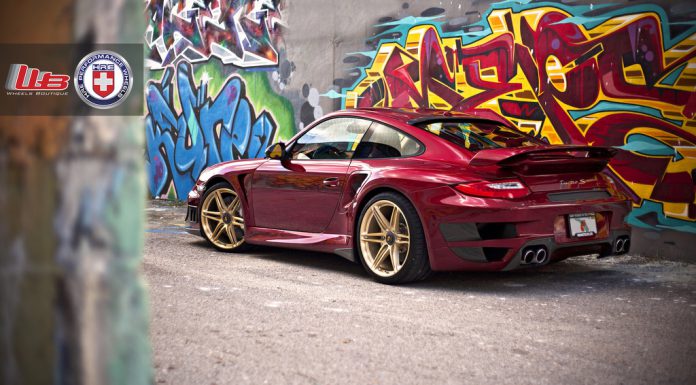 First of all, the car has been fitted with a complete TechArt GT Street R Package bodykit which is why it no longer resembles the Turbo S 918 Spyder Edition. Additionally, it has been painted in Ruby Red Metallic. The visual modifications have then been completed with a set of brushed gold HRE P106 wheels measuring 20×9 at the front and 20×11 at the rear.
The car also has a number of performance modifications thanks to the Evolution Motorsport 720hp kit. The package adds parts like new turbochargers, a recalibrated ECU, new headers, intercoolers, spark plugs, air intake and throttle body to lift power to 722 hp and 719 lb-ft of torque on pump fuel and 758 hp and 763 lb-ft on race fuel.