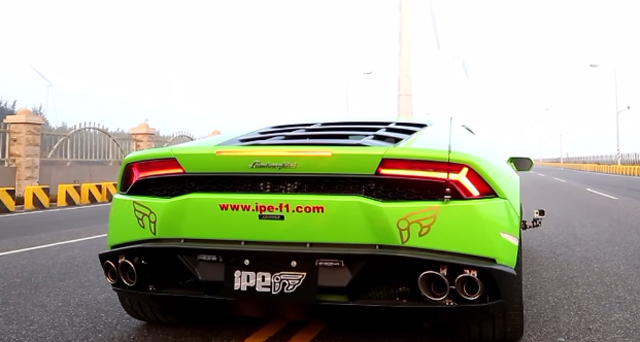 Aftermarket tuning companies are slowly beginning to get their hands on the absolutely potent Lamborghini Huracan and the latest to do so are the experts at iPE (Innotech Performance Exhaust).
Full details about the exhaust system have yet to be revealed like how much power and torque it adds, but the video above definitely shows how it amplifies the sound of the 5.2-litre V10 considerably. As a result of this, downshifts are even louder as are the truly addictive crackles and pops on the overrun!
[youtube]https://www.youtube.com/watch?v=C92TIODS3vg#t=72[/youtube]
As a reminder, the Lamborghini Huracan features a revised 5.2-litre V10 engine delivering 602 hp. Alongside the engine is a brand new seven-speed dual-clutch transmission and when combined with all-wheel drive, the Huracan hits 100 km/h in less than 3 seconds quite comfortably!