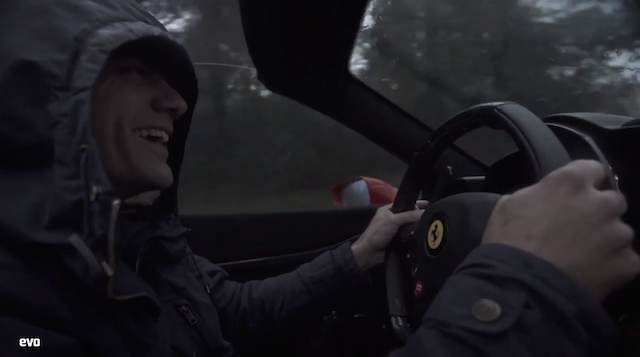 The Ferrari 458 Special Aperta takes the passion and drama of the Speciale Coupe to a whole new level. By taking the roof off the roar of the glorious V8 car be heard at its best.
Evo attempted to test the car around the hills of Modena but the clouds had other ideas. This did not deter Jethro driving with the roof down, the video below gives you an idea of just how torrential the rain was!
[youtube]http://youtu.be/Zyf-TqQ9GMA[/youtube]
The 458 Speciale A features the most powerful naturally-aspirated road-going V8 engine ever built by the Italian marque and will be publicly displayed for the first time at this years Paris Motor Show. The engine, which might be the last naturally-aspirated engine that Ferrari ever builds, produces a colossal 597 bhp and 540 Nm of torque at 6000 rpm. All this power means the Speciale A sprints from 0-100 km/h in just 3.0 seconds, the same as the Speciale Coupe, and has a Fiorano lap time of 1 minute 23 seconds, again identical to that of the Coupe.