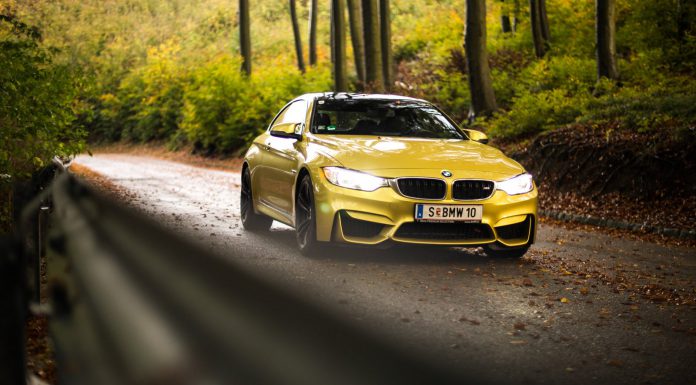 An amazing Austin Yellow BMW M4 was recently shot in Austria and we were astonished by the looks of it. Either the 4 door version (M3) or the coupe (M4) are fitted with a twin-turbocharged six-cylinder engine revving to 7600 rpm and producing an impressive 423 hp between 5390 rpm and 7000 rpm and 406 lb-ft of torque from a low 1800 rpm to 5390 rpm.
Despite the lack of an aggressive sound this new generation M3/M4 produces when compared to the mighty V8 that we got used to, the torque figures are greater than ever. In fact, it is an improvement over the outgoing BMW E92 M3 of 40 per cent. The car comes standard with a proper manual transmission, or can be optioned with a dual clutch one, but it has retained its soul: it's a rear wheel drive as any sports car should be. That formula can easily be translated in a gearhead's mind as a tail happy car, eager to drift every corner.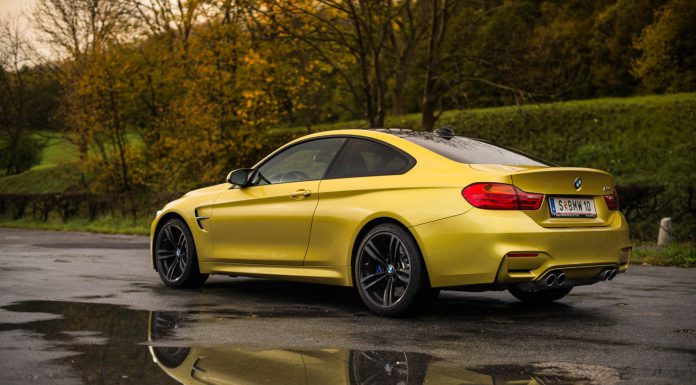 This new generation of M3/M4 cars weighs about 80 kg less than its predecessor thanks to an aluminum chassis as well as the extensive use of carbon fiber. This also means that the car is capable of continuously achieving an acceleration time from 0 to 100 km/h in 4.1 seconds (through launch control, with the optional dual clutch transmission only) and hit a limited top speed of 250 km/h.
When ticking the options boxes, the M driver's package will allow the car to have a greater limited speed of 280 km/h, as the carbon ceramic option will come with golden painted calipers. Full LED headlights are also an optional extra we would recommend, not only because of its durability but it also makes the car look astonishing at night.
[youtube]https://www.youtube.com/watch?v=vpFrPYBA80s&list=UUF3KOtA9oJWoRJhxm-_nlXg#t=56[/youtube]
Finally, after talking about the car itself, why don't we take a look at the behind the scenes video? Click play and enjoy with us the onboard footage as well as some drifting action going between the shooting time. If you like what you see, be sure to leave a comment on the section below!