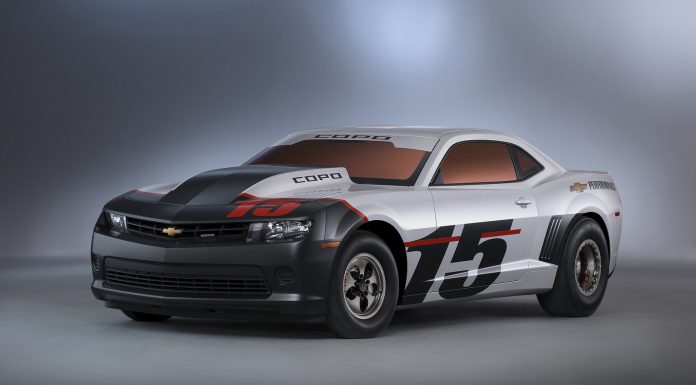 The current, fifth-generation Chevrolet Camaro is on its way out with an all-new model just around the corner. With this in mind, the American automaker has unveiled the final, 2015 model year COPO Camaro drag-racer at SEMA 2014.
Limited to a mere 69 examples, the 2015 Chevrolet COPO Camaro is essentially identical to the 2014 model from a mechanical standpoint. As a result, it is available with a plethora of different engines. These include a 350 5.7-litre V8 engine topped off with a potent 2.9-litre Whipple supercharger. Beyond this engine, customers of the 2015 Chevrolet COPO Camaro can opt for the same engine sans-supercharger, a naturally-aspirated 396 cubic inch and a 427 engine. Elsewhere, there are two 327 V8 engines available with either 4.0-litre or 2.9-litre superchargers!
Beyond the racing-spec engines available for the latest and final fifth-gen COPO Camaro, the car utilises an NHRA-approved roll cage, brand new suspension components, a solid rear axle and of course and drag racing tyres. Customers can also opt for different injector harnesses and have the car finished in any particular colour/theme they choose.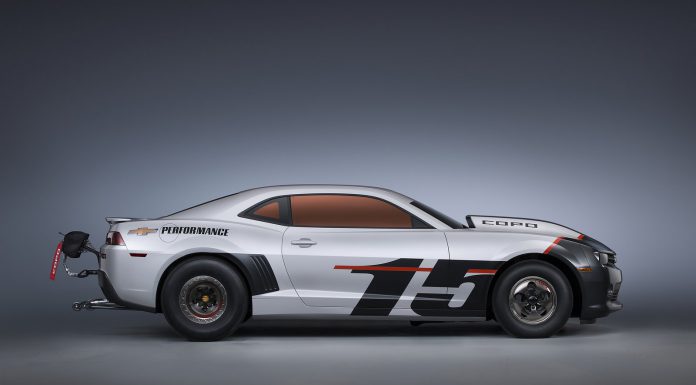 This particular example features an Abalone White exterior with a selection of matte black accents and a 2015 COPO livery.