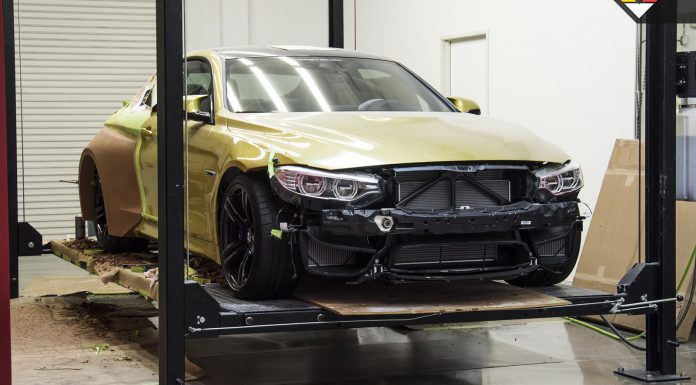 At SEMA 2014 in just a few short days' time, American tuner Vorsteiner is set to reveal a selection of new aerodynamic upgrades for a range of vehicles. Additionally, its new Flow Forged wheel series will be on display. However, the most eagerly awaited car which Vorsteiner is set to reveal will be its widebody BMW M4 Coupe dubbed the GTRS4.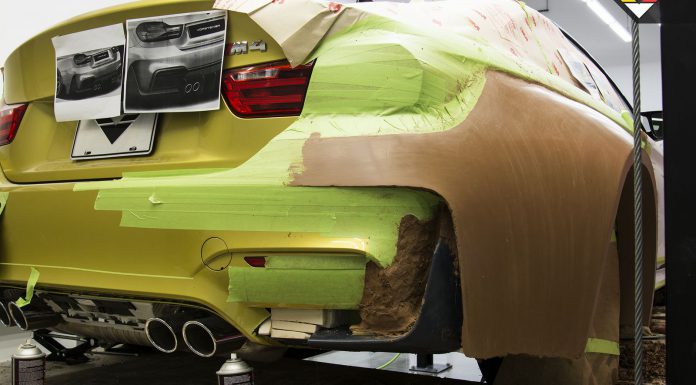 As the following images show, progress on the Vorsteiner GTRS4 is in full swing with clay moulds of the massively flared wheel arches complete. All told, the rear fenders will be extended so much that this Austin Yellow BMW M4 Coupe will be able to support 345 section rear tyres. That's just 2 cm thinner than the rear tyres of the Bugatti Veyron which happen to the widest offered on a production car!
Of course, the front arches are also being widened to provide the full package and make the Vorsteiner GTRS4 the most dramatic and aggressive M4 so far.