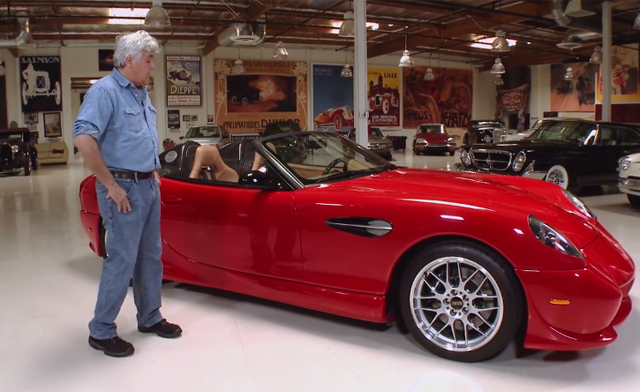 While the 2015 Panoz Esperante Spyder 25th Anniversary Edition certainly isn't the most instantly recognisable car on the market, it does promise some serious performance and exclusivity. As a result, automotive enthusiast Jay Leno recently got behind the wheel of the car in prototype guise and got a firsthand look at it with the company's founder Don Panoz in the latest episode of Jay Leno's Garage.
[youtube]https://www.youtube.com/watch?v=S5p9rF1aC_g[/youtube]
Panoz is planning to create just 25 examples of the Esperante Spyder and Spyder GT 25th Anniversary Edition models with production being limited to select customers. Panoz wants the model to be America's most exclusive custom sports car.
Because the car is so customisable, a selection of different engines are available. The entry-level naturally aspirated V8 featuring an all-aluminium block and aluminium heads has been tuned to deliver 430 hp. By comparison, the range-topping supercharged V8 pumps out 560 hp. Both of these engines are mated to six-speed Tremec T56 Magnum manual transmissions with a six-speed auto complete with paddle shifters available as an option. If the customer wants even more power, Panoz can create 800hp+ engines.
In top-spec, Panoz quotes a 0-100 km/h sprint time of 3.9 seconds as well as a top speed of 276 km/h. The quarter mile is covered in 12.5 seconds. Braking of the car is also impressive with the Esperate Spyder and Spyder GT coming to a stop from 96 km/h in just 112 feet.