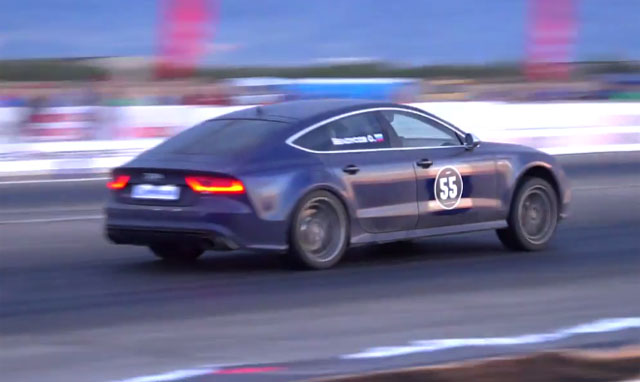 Despite weighing in the region of 1700 kg, the Audi RS7 Sportback is incredibly fast off the line thanks to its twin-turbocharged 4.0-litre V8 engine. As a matter of fact, it is more than capable of putting far more flashy supercars to shame. As always however, there are tuners who always look for that extra bit of power leading to the creation of the APR Total Race Stage 2 package and what is the world's fastest Audi RS7.
[youtube]https://www.youtube.com/watch?v=yu69ocpbgVc#t=37[/youtube]
The following RS7 recently took part in Stage 5 of the Russian Drag Racing Championship in Crimea and delivered an extremely impressive 10.1 second sprint down the quarter-mile. To put that time into perspective, it is almost exactly 1.5 seconds faster than the already potent RS7 when it leaves the German firm's Ingolstadt factory.
When combined with ZF's eight-speed dual-clutch transmission, the speed and power provided by this RS7 looks absolutely effortless!