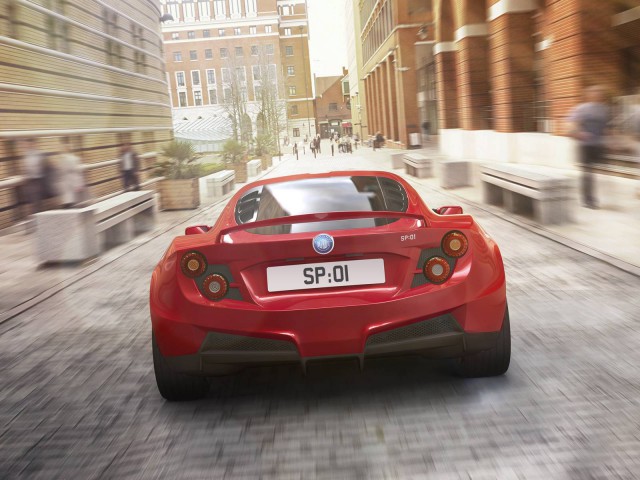 When small start-up automaker Detroit Electric previewed its SP:01 model earlier this month, we noticed the car appeared to have a new fastback style shape with a fixed roof, rather than the more Lotus Elise-like roadster version they had shown us previously. The Detroit, Michigan-based automaker has now confirmed our suspicions after unveiling the final exterior design of the SP:01 prior to its launch in early 2015.
Detroit Electric says the appearance of the SP:01 has been altered to provide better aerodynamic efficiency. The flying buttresses of the prototype have been ditched in going to fastback-like roof shape, while the large rear wing and underbody diffuser improve grip and driving dynamics. The front air intakes and air ports on the hood have also been redesigned for optimized flow to the heating, ventilation and air conditioning systems.
The SP:01's powerful all-electric motor and lightweight construction will contribute to it being "the world's fastest electric sports car," on sale today, Detroit Electric says. Power outputs have yet to be announced, however the SP:01 will be able to accelerate from 0-97 km/h in 3.7 seconds and reach a top speed of 249 km/h.
Detroit Electric says production of the SP:01 will begin later this year at the automaker's factory in the UK, with the car being available in North America, Europe and Asia by early 2015. The production version of the car may also make an appearance at the North American International Auto Show in Detroit prior to its market launch.