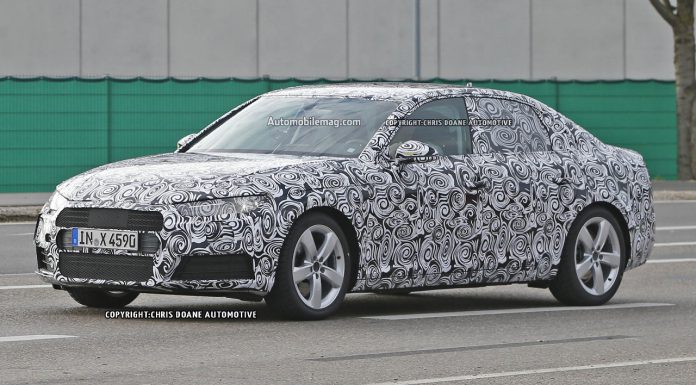 A heavy camouflaged prototype of the next-generation Audi A4 has been spied during its latest round of testing in Europe. The new A4 will help the German manufacturer to better rival the latest generation of BMW 3-Series and Mercedes-Benz C-Class.
Despite the camouflage covering every panel of this test mule, some visual differences between the current A4 can be determined. These include a stretched hood, a revised front grille design, new headlights, taillights and inevitably new bumpers both front and rear.
Beneath the skin, the new Audi A4 will ride on the second-generation MLB platform. This new platform will be extremely scalable and will weigh significantly less than the current architecture. Thanks to the use of this new platform, the next-gen A4 could weigh 220 pounds less than the current car.
One of the most exciting things about the new A4 is that it will be available as a plug-in hybrid for the first time. As we speak, BMW and Mercedes-Benz are both working on hybrid versions of the 3-Series and C-Class. Elsewhere, the current 2.0-litre TFSI engine is likely to be maintained for the next-generation Audi A4.
[Via Automobile Magazine]