Famed Porsche tuner TechArt has just revealed its comprehensive list of upgrades for the Porsche Macan SUV. Ranging from aerodynamic and visual modifications to engine upgrades and interior refinements, the TechArt upgrades cover all bases.
From a visual standpoint, TechArt offers a new front spoiler, side skirts, roof spoiler, tailgate spoiler and rear diffuser for the Porsche Macan made from high-quality PU-RIM. Interestingly, the front spoiler, roof spoiler and new side wing mirror trims are also available in carbon fibre.
A range of power kits are also available from TechArt for the Macan. Set to hit the market in the first quarter of 2015, the TechArt Power Kit TA B95/T1 adds an additional 50 hp and 70 Nm of torque to the range-topping Porsche Macan Turbo. All up, a TechArt tuned Macan Turbo delivers 450 hp at 6200 rpm alongside a torque reading of 620 Nm at 2700 rpm. As a result, the car rockets to 100 km/h in a brisk 4.4 seconds and 160 km/h in 10.9 seconds. The top speed has also been increased by 5 km/h up to 271 km/h.
A stainless steel exhaust system is also offered by TechArt. It is available for the Porsche Macan S and Macan Turbo and is valve-controlled. A sports exhaust system is also being developed by the Macan S Diesel.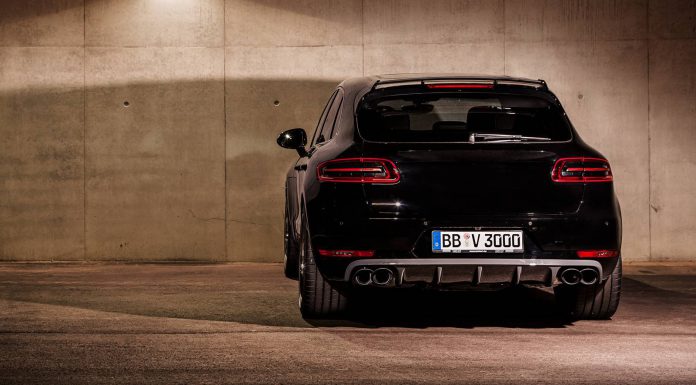 Suspension has also been a key focus for TechArt with its Macan upgrades. As a result, it can fit an air suspension module to the car which intelligently adjusts as is required. Driving in Sport Plus mode, the car hunkers down by 30 mm. Among other changes include a selection of special light-alloy and forged wheels from TechArt ranging from 21-inch to 22-inch. Some of the interior refinements see the inclusion of carbon fibre or wooden accents as well as a new TechArt steering wheel, aluminium sports pedals and paddle shifters.