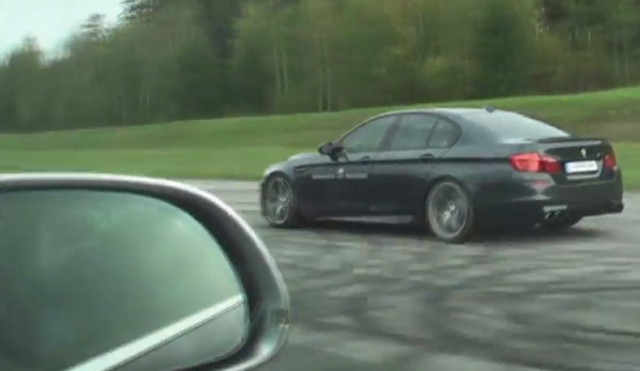 When left standard, the Audi RS6 and BMW M5 are incredibly evenly matched. As a matter of fact, the previous-generation RS6 delivers a brutal 580 hp from its twin-turbocharged Lamborghini sourced V10 engine whereas the current M5 pumps out 552 hp. Consequently, the two are very evenly matched off the line.
[youtube]//www.youtube.com/watch?v=zJFKKB1b5Ss[/youtube]
However, the following video sees a stock M5 (except for its aftermarket exhaust) pitted against an RS6 which has been tuned by MTM and now produces an apparent 700 hp and 578 lb-ft of torque (a 99 lb-ft increase over stock). Despite what you may think, the M5 manages to easily defeat the RS6 in a rolling drag race in what is a really surprising result.
Admittedly, the RS6 Avant featured is over 100 kg heavier than the M5 with its transmission also changing gears a little bit slower but does a gap like this surprise you?