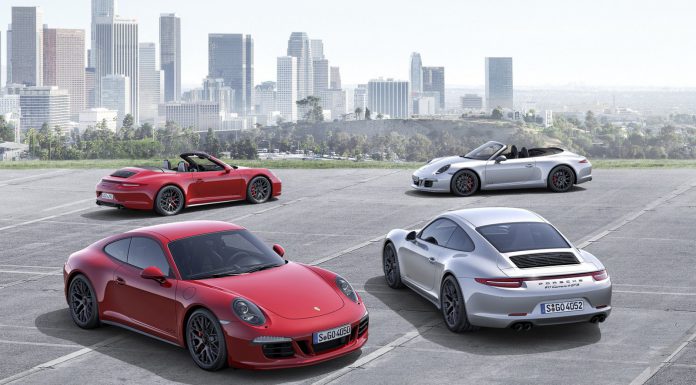 Prior to the Los Angeles Auto Show 2014 next month, the 2015 Porsche 911 GTS has officially been revealed. Designed to bridge the performance gap between the Carrera S and the track-focused 911 GT3, the 2015 911 GTS feature a range of performance and aerodynamic improvements.
Beneath the skin of the 2015 Porsche 911 GTS is the 911's staple 3.8-litre flat-six engine delivering a total of 424 hp. This represents a 30 hp rise of the Carrera S. As a result, the 911 GTS coupe equipped with the PDK dual-clutch transmission sprints to 100 km/h from a standstill in 4 seconds flat. As for the 911 GTS Cabriolet, it reaches the same mark in 4.2 seconds. Top speed for both the GTS coupe and Cabriolet sits at over 300 km/h (186 mph). When purchased in coupe form with rear-wheel drive and the 7-speed manual, the GTS can top out at 306 km/h.
Despite the added power and performance of the 911 GTS, the German manufacturer claims that fuel consumption figures and emissions remain unchanged from the 911 Carrera S.
Beyond the engine, the Porsche 911 GTS range is also fitted with PASM active dampers as well as the usually optional Sport Chrono package as standard. The PASM damper system helps drop the ride height by 10 mm. Other exciting standard features include a special sports exhaust system, bi-xenon headlights with the Porsche Dynamic Light System as well as a range of interior components now finished in alcantara.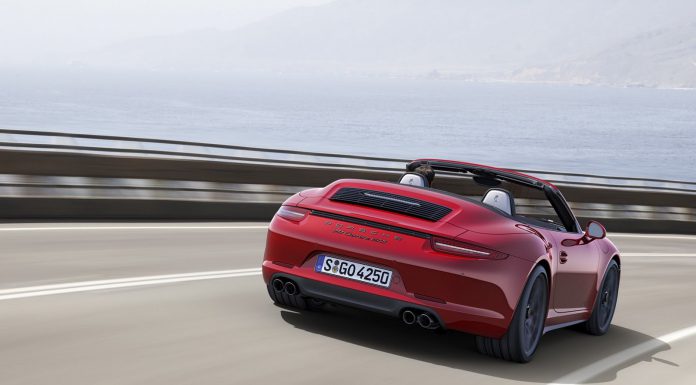 From a visual standpoint, the 2015 Porsche 911 GTS range can be identified thanks to its widened body borrowed from the 911 Carrera 4. It also features 20-inch wheels with centre wheel locks as standard and painted matte black. Black accents are also found on the front air intakes, rear diffuser and rear decklid.
The 2015 Porsche 911 GTS will initially hit the German market from next month. Both the rear-wheel drive 911 Carrera GTS coupe and the all-wheel drive 911 Carrera 4 GTS coupe will start at 117,549 euros.