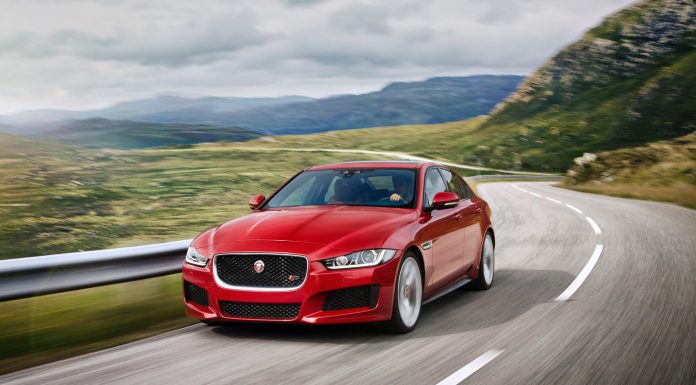 Official U.K. pricing details for the 2015 Jaguar XE have been revealed as the luxury sedan celebrates its world premiere at the Paris Motor Show 2014.
Set to reach dealerships in May next year, the entry-level 2.0-litre four-cylinder petrol engine will start from 26,995 pounds. By comparison, the Jaguar XE diesel range will be priced from 29,775 euros while the current range-topping Jaguar XE S starts at 44,780 pounds.
The top of the range Jaguar XE S features a 3.0-litre supercharged V6 engine delivering 340 hp. This engine is the same as the one powering the Jaguar F-Type V6. A torque figure of 450 Nm allows a 0-96 km/h (60 mph) time of 4.9 seconds and an electronically limited top speed of 250 km/h. Both figures make the XE S an impressive proposition! Mated to the engine is Jaguar Land Rover's eight-speed ZF transmission.
Dynamically, the Jaguar XE is incredibly slick. It has a drag co-efficienct of 0.26 making it the most aerodynamic Jaguar ever made. That figure is helped by the flat underfloor and diffuser, plus 1200 dynamic simulations and more than eight million hours of processor time.
If there's one material to define a generation of Jaguar's it is aluminium. The XE benefits from plenty of high-strength, 6000-series alloy. As with the F-Type, the XE bodysides are one piece, ultra-thin 1.1mm pieces. Parts of the car are constructed from recycled RC 5754 aluminium alloy as Jaguar moves closer towards its goal of using 75 per cent recycled materials by 2020.