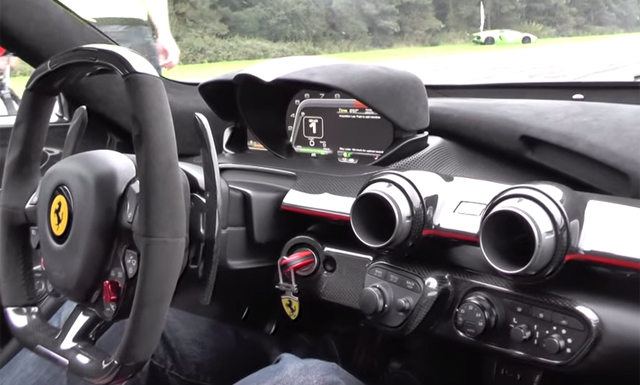 Despite the LaFerrari not being created solely for ferocious top speeds, the following video shows that it is still an incredibly fast machine. In the onboard video, this LaFerrari hits 342 km/h (213 mph) at a recent evoMax event in the U.K.
[youtube]https://www.youtube.com/watch?v=zf4TMyB6Amw#t=21[/youtube]
Ferrari claims that the LaFerrari can sprint to over 350 km/h (217 mph) and the following video proves that with almost 1500 rpm left in seventh gear before the 9000 rpm red line when the car is travelling at 340 km/h. Far more impressive than this top speed however is the incredibly acceleration of the hybrid hypercar. It really has to be seen to be believed!
In case you need reminding, the LaFerrari features a 6.3-litre V12 engine delivering 789 hp. This potent powerplant is then mated to a KERS like electric motor system providing an additional 161 hp. As a result, the LaFerrari delivers a potent 950 hp!