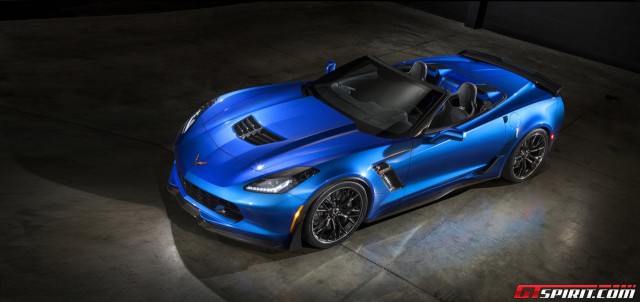 General Motors has just announced the performance times for the 2015 Chevrolet Corvette Z06 and not only is it significantly faster than the C6 generation Z06, it is almost faster than any other rear-wheel drive production car on the planet.
When it is all said and done, the new Corvette Z06 will sprint to 96 km/h (60 mph) in a mere 2.95 seconds and run the quarter mile in 10.95 seconds at 204.3 km/h when equipped with the brand new eight-speed automatic transmission. When fitted with the seven-speed manual gearbox, the new Corvette Z06 can hit 96 km/h in 3.2 seconds and finish a quarter mile run in 11.2 seconds also at 204.3 km/h.
Additionally, the 2015 Corvette Z06 is as brutal on the brakes. As a matter of fact, it can go from 96 km/h to a complete stop in just 30.36 metres and is capable of clocking 1.2 g of lateral acceleration. All of this means it is the fastest production car at GM's Milford Road Course and is more than a second faster than the C6 Corvette ZR1.
Under the hood, the Corvette Z06's brand new 6.2-litre LT4 supercharged V8 engine delivers 650 hp and an equal 650 lb-ft of torque. Peak horsepower is reached at 6400 rpm while peak torque is found at 3600 rpm. Excitingly, 90 per cent of the total torque figure is available from just 2500 rpm through to 5400 rpm.
The engine leverages direct injection, active fuel management, cylinder deactivation and continuously variable valve timing to produce that performance. The gearbox choice is between, as previously mentioned, a traditional seven-speed manual or an all-new, high-performance eight-speed automatic transmission with paddle shifters for manual control.