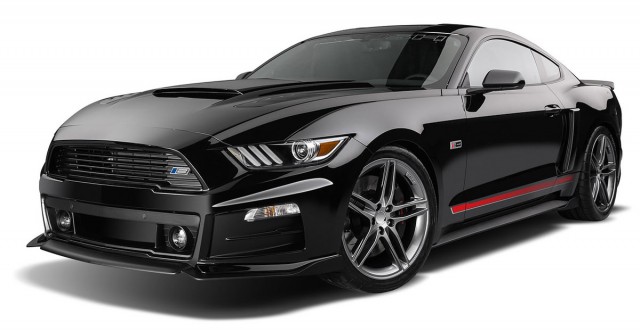 Just a few days after the first images emerged, the wraps have officially been taken off the 2015 Roush Mustang. As just the second aftermarket variant of the latest-gen Mustang available following from the Saleen 302, the new Roush focuses largely on the design of the car but also includes some engine and performance upgrades.
Power details have yet to be revealed but we do know that the Roush RS Mustang will be built around the existing entry-level 3.7-litre V6 engine typically delivering 310 hp. The RS Mustang Stage 1 will then use the car's 2.3-litre EcoBoost turbocharged four-cylinder engine producing 310 hp stock. The Stage 2 variant will then be built around the Mustang GT and its 5.0-litre V8. Further down the road, a Stage 3 model is expected and pinned to utilise forced induction with a large supercharger.
From a visual standpoint, there's no mistaking 2015 Roush Mustang from the run-of-the-mill 2015 Mustang models. It adopts an entirely new front fascia with a different grille, lower splitter and special driving lights tweaked air intakes. Additionally, new rocker panels are included on the Roush Mustang.
At the rear, Roush fits its latest Mustang with a lip spoiler as standard alongside a revised bumper and diffuser. Quad tailpipes also come standard with the Stage 1 and Stage 2 models. Large 20-inch wheels also adorn the muscle car.