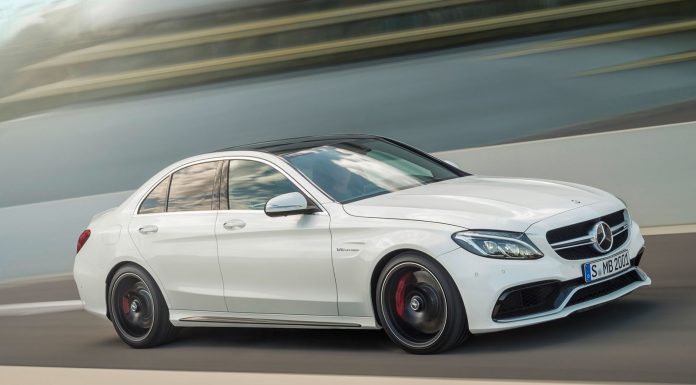 Just after yesterday's release of the 2015 Mercedes-AMG C63 and C63 S, a selection of videos of the new models have been released giving us our first listen to the brand new model.
The unadulterated clips may not be in-your-face or all that exciting, but the lack of music means the 4.0-litre twin-turbocharged V8 can be heard in all of its glory. While it certainly isn't as ridiculous as the outgoing 6.2-litre naturally-aspirated V8, the characteristic AMG burble has been retained despite the use of force induction.
[youtube]https://www.youtube.com/watch?v=EUNWTyXTNac[/youtube]
As a reminder, two different powered variants of the new Mercedes-AMG C63 are available. The 'regular' model as well as the C63 S. Both models feature the same 4.0-litre twin-turbocharged V8 engine as the Mercedes-AMG GT. The AMG C63's engine is differentiated from the GT's in that it doesn't feature dry sump oil scavenging meaning it is now dubbed the M177 instead of the M178.
[youtube]https://www.youtube.com/watch?v=Un73o3EdWJA[/youtube]
The entry-level 2015 Mercedes-AMG C63 delivers a total of 469 hp at 5500 rpm as well as 479 lb-ft of torque between 1750 and 6250 rpm. These figures represent an 18 hp gain and a 37 lb-ft increase in torque over the previous-generation C63 AMG. In the range-topping Mercedes-AMG C63 S, the car delivers a potent 503 hp at 5500 rpm and 516 lb-ft of torque from 1750 to 6250 rpm. This is even more power than the old C63 AMG 507 Edition which delivered 500 hp and 450 lb-ft and is in line with the AMG GT S.
[youtube]https://www.youtube.com/watch?v=yEjmBmiw9Q0#t=41[/youtube]
Compared to the BMW M3 which features a twin-turbocharged 3.0-litre V8 engine delivering 425 hp at 5500 rpm and 405 lb-ft, the new AMG C63 is significantly more powerful. Alongside the additional power of the latest generation car, it also weighs less than the outgoing model by 15 kg in sedan guise. All up, the potent C63 S delivers 304 hp per tonne with it tipping the scales at 1655 kg.
When it is all said and done, the new 2015 Mercedes-AMG C63 sprints to 100 km/h in just 4.1 seconds in sedan guise and 4.2 seconds in the optional Estate body style. By comparison, the C63 S reaches the same mark in 4 seconds flat as the sedan and 4.1 seconds as the Estate. Both variants and body styles are limited electronically to 250 km/h.