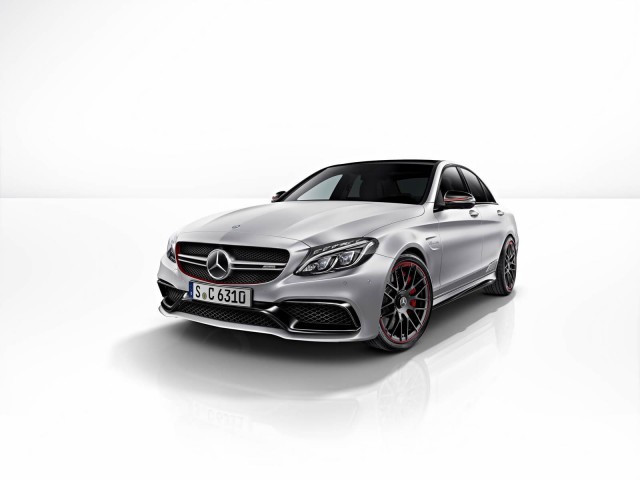 Just after the release of the 2015 Mercedes-AMG C63 and C63 S, images and details about the special Edition 1 variant have emerged.
It remains to be seen if the Edition 1 is available for both the C63 and the C63 S but the following car pictured is the latter. Either way, the visual changes are evident.
The car includes new grey stripes along the doors, a set of matte black 19-inch wheels with a red outer lip, a gloss black front spoiler, chrome tailpipes and a selection of other gloss black parts across the exterior. In the cabin, an alcantara clad steering wheels is found alongside red seat belts, carbon fibre accents throughout, black quilted nappa leather with contrasting red stitching as well as new floor mats.
In case you forgot, the entry-level 2015 Mercedes-AMG C63 delivers a total of 469 hp at 5500 rpm as well as 479 lb-ft of torque between 1750 and 6250 rpm. These figures represent an 18 hp gain and a 37 lb-ft increase in torque over the previous-generation C63 AMG. In the range-topping Mercedes-AMG C63 S, the car delivers a potent 503 hp at 5500 rpm and 516 lb-ft of torque from 1750 to 6250 rpm. This is even more power than the old C63 AMG 507 Edition which delivered 500 hp and 450 lb-ft and is in line with the AMG GT S.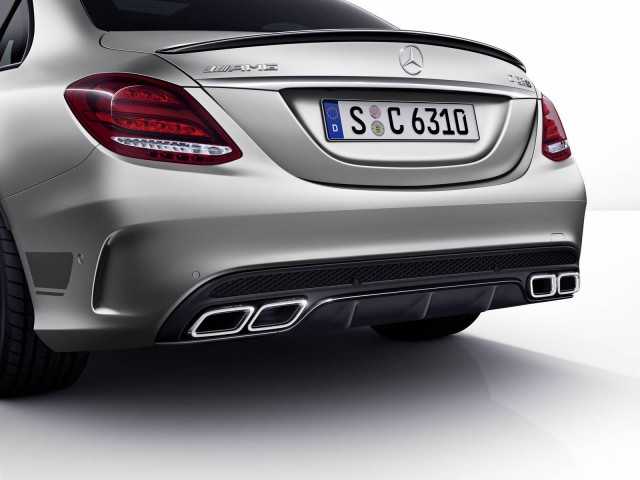 When it is all said and done, the new 2015 Mercedes-AMG C63 sprints to 100 km/h in just 4.1 seconds in sedan guise and 4.2 seconds in the optional Estate body style. By comparison, the C63 S reaches the same mark in 4 seconds flat as the sedan and 4.1 seconds as the Estate. Both variants and body styles are limited electronically to 250 km/h.
Both C63 variants feature the AMG seven-speed Speedshift MCT automatic transmission complete with paddle shifters and four different driving modes. These are C (controlled efficiency), S (sport), S+ (sport plus) and in the C63 S, R for race.