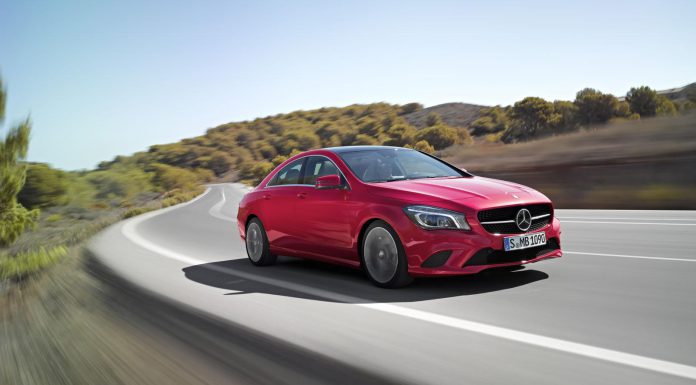 The popular Mercedes-Benz CLA has just been updated for the 2015 model year with the car now seeing a selection of minor upgrades from the existing car.
From a visual perspective, the 2015 Mercedes-Benz CLA remains identical to the current car but can now be optioned with a set of black 19-inch alloy wheels. Beyond this inclusion, one won't be able to differentiate the new car from the old until they step into the interior.
In the cabin, the infotainment system has been updated to include more intuitive controls as well as improved animated menus and visual representations on the heads up display. The infotainment screen is now one inch bigger, with it measuring 8 inches diagonally. Additionally, the "convenience telephony" system is now available to connect to high-speed LTE networks.
2014 Mercedes-Benz CLA45 AMG

Also in the inside, the 2015 Mercedes-Benz CLA receives an improved ambient lighting system which now offers twelve colour schemes. The interior trim is also now available in a satin light brown finish.
From an engine standpoint, only the CLA220 CDI has been tweaked. It now provides 177 hp and 258 lb-ft of torque and can consequently hit 100 km/h in 8.2 seconds.
Still topping out the range is the Mercedes-Benz CLA45 AMG. It houses the most powerful series production four-cylinder engine in the world with a maximum output of 360 hp and up to 450 Nm of torque. Its power density of 181 hp per litre outdoes even the most powerful super sports cars. At the same time, the engine also boasts supreme efficiency and complies with the EU6 emissions standard. The engine is a twin-scroll turbocharged 2.0 litre codenamed M133 and based on the Daimler 2.0 litre turbocharged power plant.
When it is all said and done, the CLA45 AMG hits 100 km/h in a very brisk 4.6 seconds as well as an electronically limited top speed of 250 km/h. One of the cool features of the engine is that it features spray-guided direct petrol injection via piezo injectors positioned centrally in the four combustion chambers.