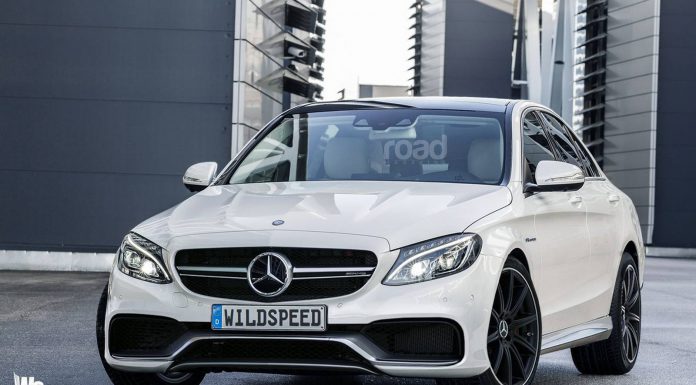 Prior to the unveiling of the new 2015 Mercedes-Benz C63 AMG at the Paris Motor Show 2014 next month, the German automaker has released the official performance details for the car.
As we expected, the latest C63 AMG is powered by the same 4.0-litre twin-turbocharged V8 engine as the Mercedes-AMG GT. It pumps out an impressive 503 hp (exactly the same as the range-topping AMG GT-S) as well as 516 lb-ft of torque which is a 36 lb-ft increase over the AMG GT-S. Yes, the new C63 AMG is more powerful than the firm's brand new halo sports car.
There's a possibility that these figures are reserved for the rumoured range-topping C63 AMG S. While the company has yet to confirm the existence of such a model, the car certainly seems quite likely considering the existence of the E63 AMG S. If these figures are indeed for the C63 AMG S, that means the 'normal' C63 AMG may produce exactly the same 462 hp as the entry-level AMG GT.
To put the C63 AMGs power into perspective, the BMW M3 and M4 duo deliver 425 hp while the Lexus RC F manages 470 hp.
Beyond the power gains over the outgoing C63 AMG, the new model will weigh about 100 kg less while also being 95 mm longer and 44 mm wider with an 80mm longer wheelbase.
Known internally as the M178, the engine is a completely new replacement for the naturally-aspirated 6.2-litre V8 engine which of course powers the GT's predecessor, the SLS AMG.
It features the same 83 mm bore and 92 mm stroke as the 2.0-litre turbocharged four-cylinder utilised by the A 45 AMG, CLA 45 AMG and GLA 45 AMG. The turbochargers are produced by Borg Warner and operate at a maximum pressure of 2.3 bar. Some of the other cool features of this new powerplant is the Bosch piezo injection system which delivers up to seven injections per cycle. Elsewhere, the cylinder barrels are finished in the German marque's Nanoslide material to dramatically reduce friction and improve efficiency.
[Rendering via Wild Speed]