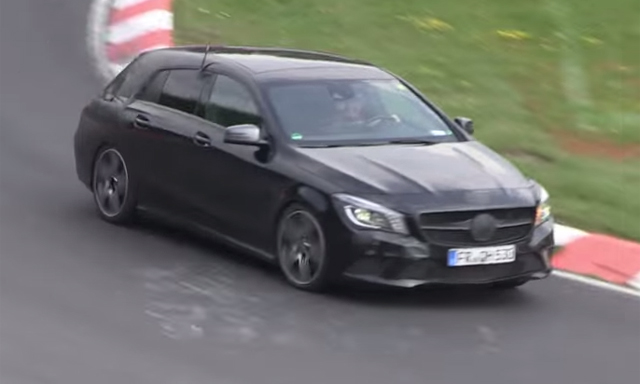 Another prototype of the upcoming 2015 Mercedes-Benz CLA Shooting Brake has been spied testing on the Nurburgring with essentially no camouflage.
Back in early July, Mercedes-Benz confirmed that the CLA Shooting Brake will be released next year. When the car does launch, it will be the fifth model from the A-Class family alongside the A-Class, CLA sedan, GLA and B-Class. As you probably already know, the CLA Shooting Brake will look essentially identical to the regular CLA sedan with the obvious exception of the redesigned rear end.
[youtube]https://www.youtube.com/watch?v=M_TZEug0-VM#t=38[/youtube]
Under the hood, the Mercedes-Benz CLA Shooting Brake will feature the same engines as the standard CLA-Class. These include a 1.5-liter diesel with 109 hp, 1.8-litre diesel with 136 hp, 2.1-litre diesel with 170 hp, 1.6-litre petrol delivering either 122 hp or 156 hp and a 2.0-litre petrol pumping out 211 hp. Additionally, a CLA 45 AMG Shooting Brake will be available and was spied testing a couple of months ago.
The Mercedes-Benz CLA 45 AMG is, mechanically, almost identical to the Mercedes-Benz A 45 AMG which received its official launch around the same time. Both cars feature the new 2.0 litre turbocharged four-cylinder and both produce a substantial 360 hp peak power figure. The differences, aside from the bodywork, are subtle but they are definitely present especially when it comes to driving the pair. We expect no different from the Shooting Brake.