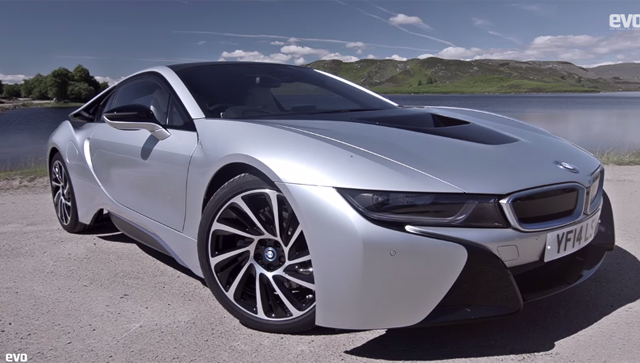 As we speak, we are in the midst of a monumental shift in the automotive industry with electric cars and hybrid cars becoming more and more prevalent. As Evo's Henry Catchpole accurately points out in the following video for Evo, the upper echelons of motorsports, LMP1 racing and Formula One, are becoming more and more battery reliant with the Porsche 918 Spyder, McLaren P1 and Ferrari LaFerrari ushering in a new era of performance oriented cars.
[youtube]https://www.youtube.com/watch?v=jZ54QP8VSvw#t=708[/youtube]
In the following clip, Catchpole samples not only the new BMW i8 sports car but also the tiny Renault Twizy as well as the Audi A3 e-tron. As you would imagine, the i8 is the most impressive of the trio and when you look at the spec sheet, that is hardly surprising.
As a reminder, the BMW i8 is of course the second model from BMW's new BMW i-Series. It is intended as a sports car and provides a forward-looking, revolutionary interpretation of BMW's hallmark driving experience. It is a 2+2-seater with a design that BMW refer to as LifeDrive architecture. It gets a "life module" passenger cell made from carbon-fibre-reinforced plastic (CFRP), as you would expect from any premium sports car. Total weight is just 1,490 kg, bearing in mind the plug-in hybrid architecture.
The production-spec i8 was of course revealed to the public last year at the Frankfurt Auto Show with production commencing in April. The drive system utilises a brand new three-cylinder petrol engine with BMW TwinPower Turbo technology. From 1.5 litres, the i8 manages an output of 231 hp, a maximum torque of 320 Nm. Power is sent to the rear wheels via a six-speed automatic gearbox. The petrol engine is supplemented by an electric motor with an output of 131 hp and maximum torque of 250 Nm. The power from this lithium-ion high-voltage battery is channelled through the front wheels via a two-stage automatic transmission.