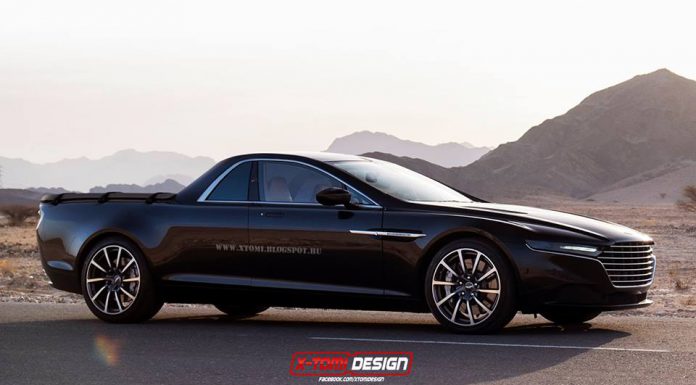 If Aston Martin were to create another body style of its new Lagonda sedan, then it would most likely be a Shooting Brake. Nevertheless, X-Tomi Design has decided to imagine how the luxury British sedan may look as a pickup truck.
In case you didn't know, Aston Martin has decided to restrict production of the Aston Martin Lagonda sedan to the Middle East because of a specific market demand for cars like this there. It remains unclear just what will power the Aston Martin Lagonda, but it is suggested that the 5.9-litre V12 from the Rapide S will be utilised. When found in the Rapide, this engine delivers 550 hp as well as 457 lb-ft of torque helping it to hit 100 km/h in under 5 seconds. In the Lagonda, this power will be sent to the rear wheels through a six-speed ZF automatic gearbox.
From a visual standpoint, the new Aston Martin Lagonda sedan has a design reminiscent of the original. As a result, it features quite a boxy shape with sharp lines as well as very thin headlights and taillights and a low roofline.
According to Aston Martin Design Director Marek Reichman "The new model, like its exclusive siblings the One-77 and V12 Zagato, has been created as a piece of exceptional automotive art.
"It has been designed and developed entirely in keeping with the spirit and ethos of previous Lagonda super saloons – notably the William Towns Lagonda – and as a tribute to this car it proudly bears the Lagonda nameplate."
It remains unclear how much the car will cost but it will be manufactured in the same Gaydon facility responsible for the Aston Martin One-77. Helping to ensure that it is lightweight, the new Aston Martin Lagonda will use carbon fibre for its exterior panels.
There is currently a prototype testing in the Middle East and during its four-week testing period in temperatures reaching 50 degrees Celsius, the test mule is expected to cover 14,000 miles.
[Via X-Tomi Design]