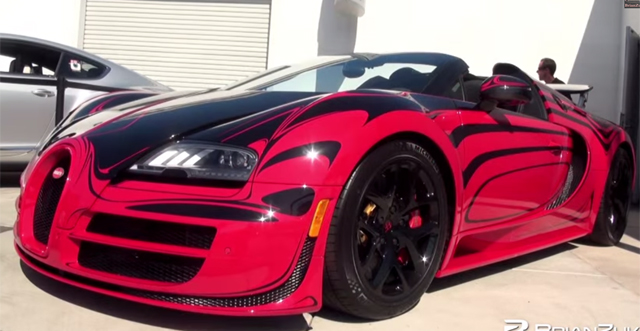 Not too long ago, images and videos of an interesting red and black Bugatti Veyron Grand Sport Vitesse inspired by the L'Or Blanc from 2011 began to emerge. Soon after, it was discovered that there were two essentially identical models with one calling the U.S. home and the other residing in Shangai.
[youtube]https://www.youtube.com/watch?v=bEAuUE1JzVM[/youtube]
The car is said to be dubbed the Bugatti Veyron Grand Sport Vitesse L'Or Rouge but it remains unclear if that name is actually official considering the French automaker never revealed the car on its own accord.
The L'Or Rouge sports a special two-tone paint job for this particular one-off Veyron. But the two-tone paint is not your standard Bugatti design, it's a complete work of art!