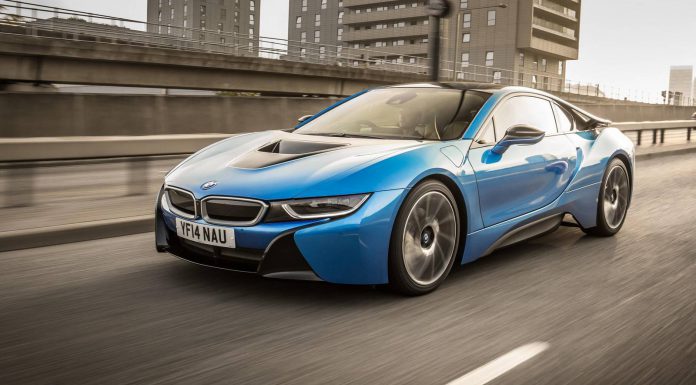 Demand in the UK for the BMW i8 is so high at the moment that one desperate BMW buyer purchased one privately for almost a 50 per cent premium.
The BMW i8 in question was sold by a client of Magnitude Finance who had their car delivered at the end of July. When the i8 owner was notified that a fellow client was interested in getting an i8, the owner confirmed he was willing to sell it for the right price.
Discussing the deal, Director of Magnitude Finance Tim Marlow said, "A long-standing client contacted us and said he was desperate to get into one and asked if we'd heard of anyone willing to sell as the dealers had sold out. We knew a long-standing client had one on order and when we were preparing a package for his latest car – a Ferrari FF – we casually mentioned it and he said he was willing to sell for the right price.
"We put the pair in touch to conclude the deal and both are extremely happy. The buyer says he is investing in a modern day classic while the seller has made a profit of £45,000 in just over a month," he said.
As a reminder, the BMW i8 is of course the second model from BMW's new BMW i-Series. It is intended as a sports car and provides a forward-looking, revolutionary interpretation of BMW's hallmark driving experience. It is a 2+2-seater with a design that BMW refer to as LifeDrive architecture. It gets a "life module" passenger cell made from carbon-fibre-reinforced plastic (CFRP), as you would expect from any premium sports car. Total weight is just 1,490 kg, bearing in mind the plug-in hybrid architecture.
The production-spec i8 was of course revealed to the public last year at the Frankfurt Auto Show with production commencing in April. The drive system utilises a brand new three-cylinder petrol engine with BMW TwinPower Turbo technology. From 1.5 litres, the i8 manages an output of 231 hp, a maximum torque of 320 Nm. Power is sent to the rear wheels via a six-speed automatic gearbox. The petrol engine is supplemented by an electric motor with an output of 131 hp and maximum torque of 250 Nm. The power from this lithium-ion high-voltage battery is channelled through the front wheels via a two-stage automatic transmission.